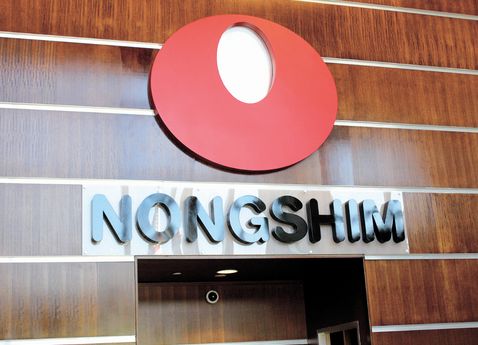 Although Nongshim is a very well known and popular brand in South Korea, dominating the ramen landscape by boasting a 70% market share, the company is relatively unknown in the United States. Nongshim America is setting out to change that by re­imagining, re­tooling, and re­marketing its already popular products to entice Western consumers to give their ramen a try.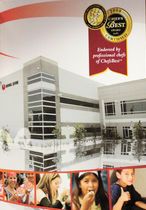 How does the company market this distinctly Korean food to non­-Koreans?
It hasn't been easy. When Nongshim decided to expand to the United States in the late 1980s, they thought of only establishing business offices without any data or information for the marketing team to review in order to figure out their next move. Kevin Chang, who is a Marketing Manager at Nongshim America, told us about some of the difficulties of breaking into the US market.
"Nongshim is already very popular for Koreans, even Korean immigrants from Korea who live in the United States and Southern California," Chang said. "To attract other ethnic groups, we have to figure out their tastes, preferences, and culture, because here there are so many ethnic groups living together."
While creating new products that cater to non-­Korean tastes, Nongshim tries not to lose the company's core values and distinct flavor."Getting into a more mainstream market is a goal since we came here," he continued. "But we maintain our identity, which is spiciness."
One of their products that has become popular with both Koreans and non-Koreans alike is their vegan ramen, Soon Ramyun (순라면). This product has become a hit here in the States because there are many people who avoid animal products for health, environmental, and ethical reasons. Chang said that Nongshim aims to provide more healthy and premium options than competitors such as Nissan and Maruchan, whose marketing strategy is to sell their products at really low prices.
To get into the mainstream market, the company is sponsoring sports teams like the Dodgers, the Yankees, and the USC Trojans. In addition, they've used product placement in movies and drama series and event promotion at Korean culture events and K-pop concerts. Another strategy has been to brand their products with the English title, Farmer's Heart, which is the literal translation of Nongshim.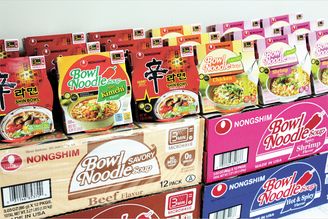 Farmer's Heart Reaches America and Beyond
Lately, Nongshim has seen its products slowly become accepted into the mainstream. Its top four products are Shin Ramyun, Noguri, Chapaghetti, and Anseongtangmyeon, which can be found in chain stores like Costco, Wal-Mart, Ralph's, and even 7-Eleven.
According to Chang, "Right now, 60% of sales are coming from non­-Korean groups," a dramatic shift from ten years ago. It used to be that most sales would come directly from Korea, but now requests are coming from all over the world.
"We receive request letters from all over the world: Chile, Afghanistan, South America, and Bangladesh," he told us. "We went to an Indian event in New York last year [with our] vegan product, Soon Ramyun… We did a lot of sampling, and the people loved our product."
At this year's KCON in LA, Nongshim donned a huge booth where event­goers could play to win different types of ramen to take home. The line at their booth was one of the longest lines at the convention, demonstrating how popular the brand has become amongst youngsters who follow the Hallyu wave.
By constantly creating new products, staying true to their tastes, and presenting the highest quality, slowly but surely, Nongshim is spreading the traditional Korean taste globally for all to enjoy.
By Cristina, Daniela(Nutty Nomads). Genesis Miranda, Dong Gi Jung