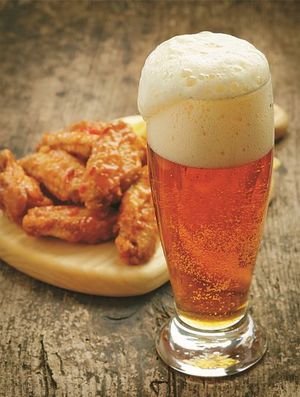 During the 1960s and 70s, Koreans reimagined fried chicken to agree with the Korean palette and added cold draft beer to get the now classic combination of Chimaek. Nowadays, it's typical to see Chimaek showcased in Korean dramas, and there's even a festival devoted to Chimaek in Daegu. The dish exudes deliciousness.
The best chicken and beer restaurants in K-town
A survey was conducted by The Korea Daily from September 3-10, asking 550 Korean people what they think is the best chicken restaurant in Koreatown. More than 27 restaurants were in heavy competition.
OB Bear (3002 W. 7th Street) was selected as the best choice by 18.81% of those surveyed. Although this location is mainly considered a bar, it also serves chicken and other traditional Korean foods that are accompanied by alcohol.
The place that ranked second, Koko Chicken and Pizza (3377 Wilshire Blvd), specializes in the chicken and pizza combo. This quaint eatery is tucked away behind the Boiling Crab in the Brown Derby plaza in Koreatown.
OB Bear – Taste the traditional flavor from the 1980s in Korea
A dimly lit room with comfortable booth and table seating, sports playing on screen, and Korean pop music playing in the background, OB Bear is a perfect place to catch up with friends over drinks. OB Bear has been in business for 25 years, and it was already a famous place for chimaek when its current manager took over 20 years ago.
According to Manager Lee, "People visit my place because they are tired of having franchise chicken." Based on those surveyed, one of the most popular menu items is the roast chicken, which is baked in a traditional way. Another that has been a customer favorite for years is the chicken wings, which have a spicy pepper sauce. Lee believes the difference between his place and other chimaek places is that his chicken is very simple. Since it is not fried, he says, it is easy to eat.
"Honestly, the recipes that other chicken restaurants use are basically from Korea, and those restaurants are kind of another branch of the Korean ones. I believe this is a reason that people come to my place. The method we use is just simple like the way people served chicken in South Korea during 1980s," Lee said.
Based off of the survey, we ordered one of their most famous dishes which was the whole roast chicken that came with two pieces of chicken, a side of coleslaw salad, and a bowl of cubed white radishes. To add a bit of spice and flavor, the chicken also came with jalapeños and salt in two small containers.
Their friendly staff was quick to take our order and accommodate all of their customers. Considering the bar style ambiance of OB Bear, it is the perfect place to meet up with friends and watch a sports game over drinks or simply enjoy some of the best chicken in Koreatown.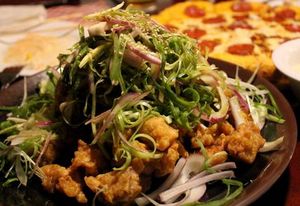 KoKo Chicken and Pizza – Experience the most popular and representative flavor beloved by Koreans
When we sat down at KoKo Chicken and Pizza, we asked the waitress about the most popular dish and she told us about the Pa Dak Combo which included pizza and Pa Dak chicken composed of a lightly fried boneless chicken covered in green onions.
Based on the waitress' recommendation, we opted to indulge in a Pa Dak chicken and Pepperoni pizza combo with a pitcher of beer. From the taste, we knew why this beloved spot ranked so high on the poll! We asked owner Max Jo why he thought his restaurant was so popular, and he let us in on his secret.
"The recipe we use in America is nearly the same as the original in Korea," Jo said. "The marinated sauce evokes the authentic taste you would get in Korea, which is why many Koreans visit our business."
It also seems that there is a correlation between sports and the volume of customers that appear at Koko Chicken and Pizza on a given day.
"When [Dodgers pitcher and native Korean] Hyun-Jin Ryu is playing, so many people come around to the restaurant and watch his games and eat our chicken and pizza; when that happens, our sales often jump up over three to four times compared to regular times," Jo stated.
When we told him about the Korea Insider poll, Jo said, "I've heard that OB Bear has been placed as the Number One Korean chicken restaurant. It's not a surprise. I personally go to OB Bear often because I really like their roasted chicken."
Yet Jo has many ideas for the future of his establishment, and he says that customers have a lot of new things to look forward to.
"I would like to make KoKo Chicken the Number One place next time," he told the Korea Insider.
"I actually have a recipe for grilled chicken that gives a crispier taste right now," he continued. "I also have a plan to add more options for customers who visit KoKo Chicken, like fried rice, curry flavored marinated fried chicken, and more. I'm still developing them, but I would like to release those items by the end of this year or the beginning of next year."
What delicious additions to an already delicious menu! And, there is great news for UCLA students.
"I would like to offer beverages or side orders such as french fries, onion rings, and cheese sticks to those with Bruin cards," Jo told us. "But please make sure to visit during November because this will only available for a month."
Hurry in for these special discounts!
BY NUTTY NOMADS, GENESIS MIRANDA, DONGGI JUNG