In showcasing the culinary art of her native country, Tazegul Mammetalyyeva set her focus on originality and authenticity, personally bringing all of her traditional goods from her residence to make a traditional noodle dish called unash.
Unwrapping the dishware, food utensils, tea bags, tablecloth, precooked flatbread and dried fruits personally brought over from Turkmenistan by the ambassador himself a week before, Mammetalyyeva, dressed in traditional attire, fervently stressed that dining in Turkmenistan was all about the etiquette – even if it meant fully demonstrating the customs, tableware and all, at a local hotel.
Q. Why did you choose unash for today's main dish?
A. It is the most traditional dish in Turkmenistan and easy to prepare. It is often served to someone who has caught a cold or flu, and in that case, made especially spicy so that he or she can sweat heavily and let out heat to open up their sinuses. I boil two or three dried red peppers in a small pot of water and serve it on the side for this effect.
How is unash similar to Korean cuisine? What Korean aspect can you find in your dish?
I find the dish to be similar to Korean kalguksu [noodle soup]. As I know, "kal" of kalguksu means knife, and "guksu" means noodles, indicating that the noodles in this dish are made by cutting them from the dough. "Un" of unash means flour, and "ash" means noodles.
Please describe Turkmen cuisine.
It is well-known that culinary traditions develop under historical and geographical influences. A nomadic lifestyle and severe environmental conditions of living in the deserts affected the culinary traditions of the Turkmen, with the chief features being simplicity and affordability – cooking methods are easy to follow, and ingredients are commonly found.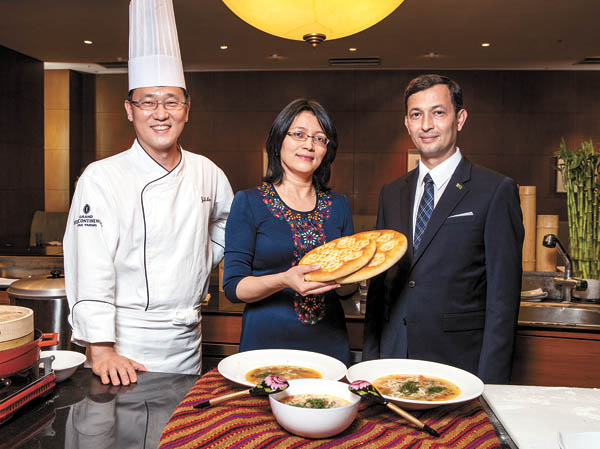 Cattle husbandry has resulted in meat dishes being considered the most important in national cuisine. Turkmen prefer mutton to all other meats, including chicken and beef. Horse meat and pork are not consumed at all. Horses have played a vital role in Turkmen society for centuries, as they provide the means of life, such as transportation and trade. A vast majority are Sunni Muslim, which is why pork is forbidden.
Making chorek [a nan-type, tandoor-baked flatbread] is considered an art in itself. Tamdyr, the clay oven where the bread is baked, is thought to be the most sacred place in a house, and the bread has always been honored as a charm that protects the family.
As in any other country in Central Asia, Turkmenistan is unprecedentedly rich in delicious fruits and vegetables. Melons are world-famous, and their honeyed odor is what helped the country export the fruit even during pre-Islamic times.
Vegetables like pumpkins and carrots aren't widely used in the Turkmen diet, but radish is common, as well as tomatoes and onions. Other popular ingredients are red and black pepper, mint, wild parsley, saffron and garlic.
One can find many similarities between Turkmen dishes and those from neighboring Central Asian countries, but the proximity to the Caspian Sea and the dishes that derive from ingredients found near the area are what make our dishes so special.
What are some popular fish dishes in Turkmenistan?
Fish is a popular ingredient in areas near the Caspian Sea, and families there mainly use sturgeon, beluga, herring, stellate sturgeon, catfish, mullet, sazan and pike perch, among others. Salmon is often incorporated in preparing shashlik, a type of kebab, and marine products are frequently mixed with pilaf, a dish of rice cooked in a seasoned broth.
What ingredients from your home country are hard to find here, and where can you source them?
Most ingredients from the Turkmen diet are easy to find, but halal mutton or lamb is quite difficult to find here.
There is a small meat shop near the Seoul Central Mosque in Itaewon-dong, central Seoul, but the meat isn't the same as the ones that are provided in my home country.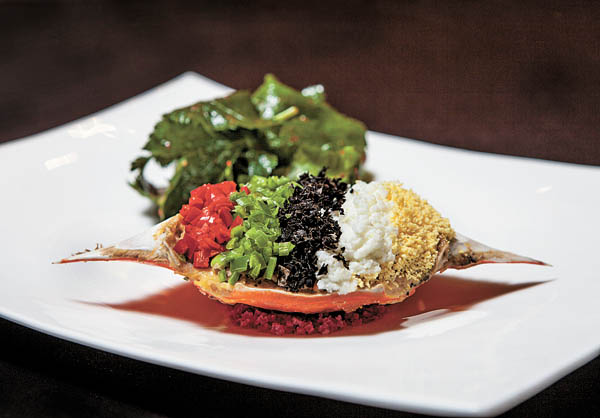 How has being in Korea changed the way you cook?
I think being in Korea rather changed my appetite. I used to evade eating spicy food before arriving here, and the first few months eating kimchi, I have to admit that it wasn't my favorite local side dish. But within a year, I grew fond of it and especially have come to enjoy the texture of the cabbage.
What are your most favorite Korean dishes?
Being in Korea for a year and a half, my husband and I have tried many dishes, including kimchi, bulgogi [marinated beef], mandu [dumplings stuffed with meat and vegetables], bibimbap [rice mixed with meat, vegetables and red pepper paste], tteok [rice cake], juk [porridge] and many more. But I must say that kimchi and mandu, which is similar to the Turkmen borek [flat pastries filled with meat and onions], are my favorite. I especially favor mandu filled with spicy kimchi.
Please give us your personal observation about Korea, how it compares to your country or other countries which you have lived in.
I've noticed some similarities between Turkmen and Korean cuisine, especially in the etiquettes of dining. For example, Turkmens traditionally sit on cushions on the floor and eat from a low table called dastarhan. The floor is generally covered by our national wood and silk carpets, so it is comfortable. In the Turkmen culture, respect for elders is also very important, and therefore, people are required to wait for their elders to sit at the table and start eating before them; they are also required to remain at the table until the elders finish their dishes.
Palow [rice], stews and other meat dishes are often served in a large communal container, rather than in individual servings. Turkmens, like Koreans, believe that sharing food from one bowl makes a relationship closer. Diners can eat directly from the main dish, or serve themselves into small individual plates.
Which place in Seoul do you enjoy visiting the most and why?
During the weekdays, my family enjoys walking in Itaewon-dong, as we live nearby; we normally don't go there in the weekend because it is very crowded. On weekends, we instead go to Namsan Park in Jung District, central Seoul, or the Han River, to take a stroll or ride a bike.
BY LEE SUNG-EUN [lee.sungeun@joongang.co.kr]
Every great capital has a diplomatic corps representing their countries and promoting their own cultures. Ambassadors are expert entertainers and their spouses are often skilled at introducing the cuisine of their homeland to their foreign hosts. In this series, the Korea JoongAng Daily asks the spouses of Seoul's ambassadors to introduce our readers to a favorite entree from their homelands. In each installment, her excellency will be joined by a chef from one of the two InterContinental hotels in Seoul who prepares a Korean dish that complements the foreign offering. Mashitge deuseyo, istaniz acyk bolsun and bon appetit!