Coming from a country that is one of the four major cradles of civilization, Nehal Hanna was shocked upon learning that locals here could only identify Egypt with two aspects: the pyramids and deserts.
But even as the country is predominantly desert, with a mere 7 percent of the total land area cultivated and permanently settled, the wife of the Egyptian ambassador was firm in contending that there's so much more to her native country.
Her efforts have included teaching Egyptian studies for two semesters at Sookmyung Women's University in Yongsan District, central Seoul, an experience the pharmacology graduate said was uniquely enriching.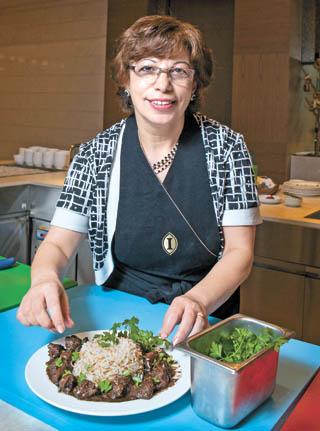 Q. Why did you choose kebab halla as today's main dish?
A. As a child, I grew up with a working mom who was always so busy. Cooking on her own meant she had to prepare meals for seven family members, so she often relied on savory meals that could be made in the quickest way possible. One example was kebab halla, also known as pot kebab. I chose this childhood favorite mainly because of its simplicity.
Kebab is very common in the Middle East, but kebab halla is considered more like an Egyptian tradition that's popular for its rich taste.
One of the key advantages of this dish is that it's easier to prepare than grilled kebab; lamb or beef are cut into cubes rather than minced. Other ingredients that are equally important to meat are rice and vermicelli, which are popular complements in Egypt, often served for lunch alongside meat and vegetables.
What Korean culinary aspects can you find in your Egyptian dish?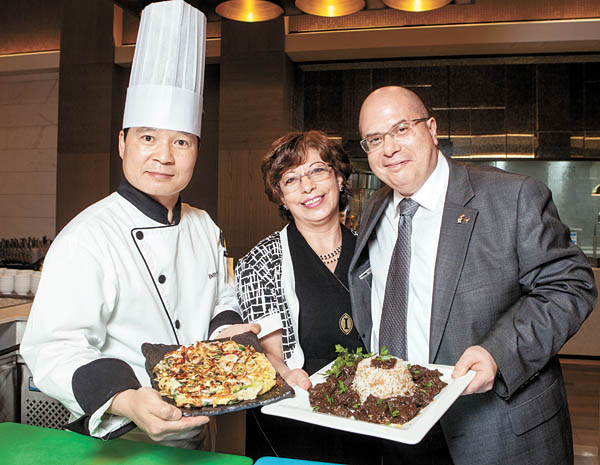 The main ingredients in kebab halla are fried beef cubes, onion and garlic, which reminds me of Korean galbi [barbecued short ribs]. Koreans tend to use a lot of onions and garlic in their local food, and rice is also a main component. Two key differences, however, would be that vermicelli is hardly used here, and that rice is stir-fried in oil or butter, a stark contrast to Korean rice, which is usually steamed.
Please describe Egyptian cuisine.
Egyptian cuisine and some of its recipes date back 5,000 years. Archaeologists have revealed that food in Egypt was used as a means of payment during ancient times. To ponder more deeply into the cultural aspects of Egyptian cuisine, it is worthwhile to note that ancient Egyptians left evidence of their love for food on well-preserved wall paintings and carvings, discovered on tombs and temples. The artifacts depict large feasts and a variety of foods. Many of these ancient foods, in fact, are still eaten in Egyptian households today.
Peas, beans, cucumbers, dates, figs and grapes were popular fruits and vegetables in ancient times. Wheat and barley – ancient staple crops – were used to make bread and beer.
Fish and poultry were also popular. Dried fish was prepared by cleaning the fish, coating the pieces with salt and placing them under the sun to dry. Fasieekh [salted dried fish] remains popular today.
The uniqueness of Egyptian cuisine is traced throughout history, particularly by its neighbors in the Middle East. Persians, Greeks, Romans, Arabs and Ottomans were some of the first people to influence Egyptian culinary culture thousands of years ago. More recently, the foods of other peoples, including those from Lebanon, Palestine and Syria, have affected the Egyptian diet, as well as others in several parts of Europe. Over the course of history, changes were mainly made in the use of ingredients and culinary styles.
But even after thousands of years, Egyptian food in large part maintains its uniqueness through main staple foods like rice and bread and other dishes, including molokhiyya [a spinach-like vegetable] and ful mudammas [cooked, creamy fava beans]. Egyptian cuisine depends heavily on legumes like beans and lentils. Vegetables, particularly onions, are widely used in most dishes. Vegetarians normally have no problem getting by in Egypt since meat has traditionally been expensive and thus less common.
The Egyptian bread aish merahrah [a type of flat bread made with ground fenugreek seeds and maize], which literally translates to life, is a traditional diet of the Egyptian countryside. There is no cutlery in Egypt, so it's common to use bread to "spoon" the food.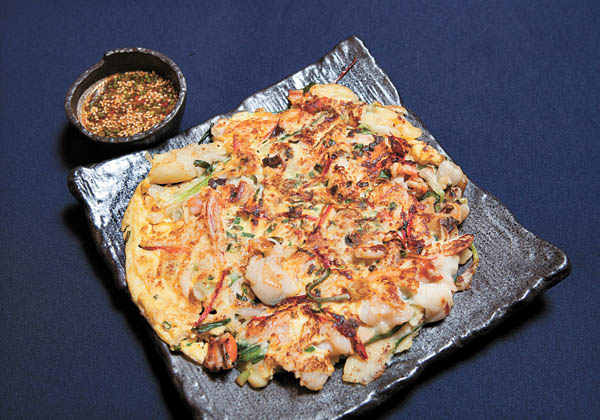 What ingredients from Egyptian cuisine are easily found in Korea?
Most ingredients used in Egyptian cuisine are available in the local market. Poultry, beef, fish, vegetables, fruits, spices, grains, seeds and pastas are all spotted here.
What ingredients are hard to find and where can you source them?
It's hard to find lamb meet, some vegetables like okra and haricot, coriander, dill, parsley and some spices. Fava beans, a main ingredientfor most Egyptian breakfast tables, are also rare here, except in canned forms. The aforementioned goods can sometimes be found at foreign markets in Itaewon-dong, central Seoul.
What are the best restaurants in Seoul serving Egyptian cuisine or a similar one?
For reasons of cultural and geographical proximity, any Middle Eastern restaurant in Seoul would offer plates similar to those in Egypt. The Jordanian restaurant Petra and the Turkish restaurants Pasha and Kervan, all in Itaewon-dong, are among the best eateries here.
What Korean dishes are you most fond of and why?
My husband and I enjoy eating Korean food, especially bibimbap [rice mixed with vegetables], galbi and of course, kimchi. Kimchi is very similar to Egyptian pickles, which are made out of cabbage. Korean cuisine in general is healthy and light, with the greatest advantage being that it doesn't make you feel exceedingly full.
Please give us your personal observations about Korea, how it compares to your country or other countries which you have lived.
Korea is a lovely place to live in, with Seoul in particular being a lovely city with a rare mixture of beautiful nature and an exciting urban life. My husband and I find the locals are very kind and polite people, who are friendly toward foreigners. Of all the nations we lived in, Seoul reminds me of Buenos Aires because the locals are very amiable and full of energy. I have particularly been impressed by the level of progress in Korea and the way people enjoy their lives without affecting their high dedication to work.
Which place in Seoul do you enjoy visiting the most and why?
I enjoy visiting almost every place in Seoul, but some sites have left an unforgettable impression on me, like the National Museum of Korea and the N Seoul Tower in Yongsan District, central Seoul. The Namsan Park has truly breathtaking sceneries and a lovely atmosphere for hiking and jogging. I also like wandering off in Myeong-dong in Jung District, central Seoul, and watching fantastic Nanta [a performance combining Korean percussion with kitchen utensils] shows at a local theater. Insa-dong in Jongno District, central Seoul, reminds me of the ancient districts of Cairo; in both areas, you are able to smell and feel the authentic folkloric characters of each country.
BY LEE SUNG-EUN [lee.sungeun@joongang.co.kr]
Every great capital has a diplomatic corps representing their countries and promoting their own cultures. Ambassadors are expert entertainers and their spouses are often skilled at introducing the cuisine of their homeland to their foreign hosts. In this series, the Korea JoongAng Daily asks the spouses of Seoul's ambassadors to introduce our readers to a favorite entree from their homelands. In each installment, her excellency will be joined by a chef from one of the two InterContinental hotels in Seoul who prepares a Korean dish that complements the foreign offering. Mashitge deuseyo, bil hana wa shifa and bon appetit!