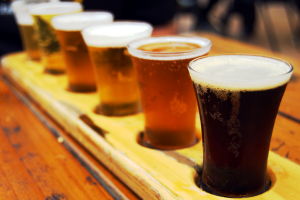 With craft beer gaining more and more popularity over time, craft breweries from different states present a variety of distinctive beers. Many of the top rated beers are IPA or Imperial Stout, which are characterized with strong flavor with high ABV. Here are some of the top rated beers from each state. Visit RateBeer.com for more information.
CA: Imperial IPA Pliny the Younger from Russian River Brewing
AZ : The American Presidential Stout from Gilbert's Arizona Wilderness Brewing Co.
FL : Final Push imperial stout from Cigar City Brewing
HI : Imperial CoCoNut PorTeR from Maui Brewing Co.
NY : Imperial Russian stout from Southampton Publick House
TX : Atrial Rubicite from King Brewery
WA: Kentucky Dark Star from Fremont Brewing Co.
Original document available from http://www.koreadaily.com/news/read.asp?page=31&branch=NEWS&source=&category=lifenleisure.livingnstyle&art_id=2887846
Translated by Heewon Kim