Good morning. It's Monday, April 3. I'm Mooyoung Lee, a reporter for The Korea Daily's newly-launched newsletter, Katchup briefing. In today's inaugural newsletter, I will be covering the issue of Asian hate crimes, which is a major concern for the Korean American community. I have compiled stories published by the Korean language newspaper of The Korea Daily over the past few weeks.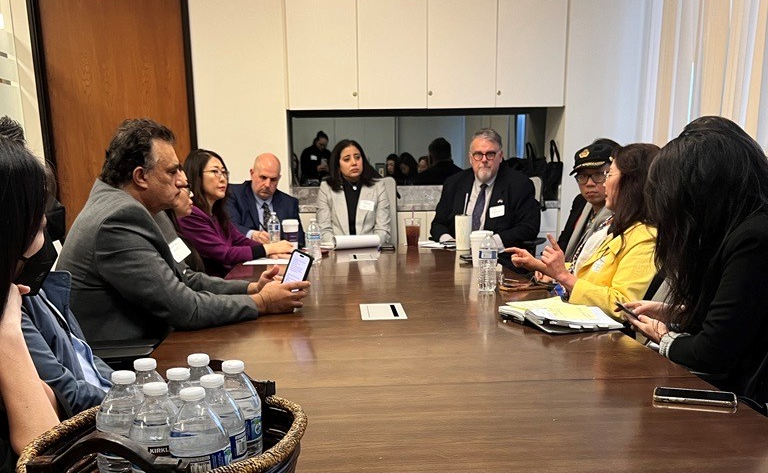 Will Asian hate crime fade away as the pandemic ends?
Three high-ranking officials from anti-terrorism agencies visited Koreatown in Los Angeles on March 29 to discuss ways to prevent Asian hate crimes. The officials are Brenda Abderall, assistant secretary of the Department of Homeland Security (DHS); Nicholas Rasmussen, DHS counterterrorism coordinator; and John Picarelli, director of counterterrorism at the National Security Council.
The visit was prompted by the second anniversary of the Atlanta spa shootings, and the officials traveled to the region to hear from community leaders in the field. They met with Asian community leaders, including Korean-American opinion leaders, to discuss strategies for preventing hate crimes against Asians.
When most Korean Americans think of Asian hate crimes, the Atlanta spa shooting is likely to come to mind. On March 16, 2021, a 21-year-old white man named Robert Aaron Long opened fire at two spas in Atlanta, Georgia, killing eight people. Six of the victims were Asian women, including four Korean women and two Chinese women. The incident received national attention due to the high number of Asian victims.
Prior to the Atlanta shooting, there had been a spate of Asian hate crimes between January and March 2021 that had received widespread media coverage. For example, in January, an elderly Thai American man was fatally attacked in San Francisco, while in February, a 61-year-old Filipino man was slashed across the face with a box cutter on a New York City subway. In March, a 75-year-old Chinese woman was fatally attacked while walking in San Francisco, and another 75-year-old Chinese woman was punched in the same city.
In response to these incidents, President Joe Biden addressed the nation on March 11, 2021, the first anniversary of the coronavirus pandemic, and declared that the rise in Asian hate crimes was "wrong, un-American, and must stop." However, just five days later, the Atlanta shooting occurred, further highlighting the need for action to address the issue. Biden took office as U.S. president on January 20, 2021, just two months before the Atlanta shooting.
On March 16, 2023, survivors, Asian American and Pacific Islander (AAPI) politicians, and supporters gathered in downtown Atlanta in the second anniversary memorial to remember the victims and condemn Asian hate crimes. AAPI Liaison Erica Moritz from the White House read a letter from President Biden in which he honored the victims and pledged to "end gun violence."
The Atlanta shooting was also the subject of a documentary film titled Rising Against Asian Hate: One Day in March. The film's producer, Gina Kim, stated that they had made the film to examine the worsening racism against the AAPI community, honor the victims, and support those who are fighting back against hate. 
While discrimination against Asians has existed throughout American history, its surge in recent years is largely related to the coronavirus pandemic. President Donald Trump's use of xenophobic and racist language to describe the pandemic, including calling it the "China virus," exacerbated the problem. Some Republican lawmakers echoed this language in the media, further fueling anti-Asian sentiment.
As Asian hate crimes became more prevalent, civic organizations sprang up in response, such as Stop AAPI Hate. This organization was launched on March 19, 2020, in response to the alarming escalation in xenophobia and bigotry resulting from the COVID-19 pandemic. The group tracks and responds to incidents of hate, violence, harassment, discrimination, shunning, and child bullying against Asian Americans and Pacific Islanders in the United States.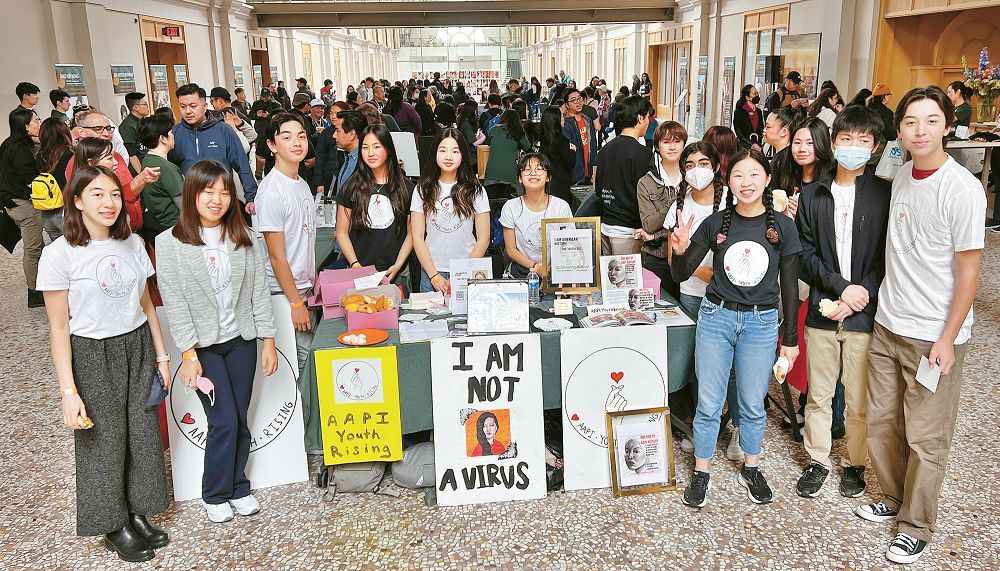 In July 2022, the organization released a report titled "Two Years and Thousands of Voices," which analyzed 11,467 hate incidents and crimes received over a two-year period from March 19, 2020, to March 31, 2022. Hate incidents, which included harassment, name-calling, slurs, and threats, were primarily directed at Asians, while hate crimes involved physical assaults. Chinese made up the largest number of victims of hate incidents and crimes at 43%, followed by Korean at 16%. The report revealed that one in two Asians felt unsafe outdoors due to anti-Asian sentiment, and incidents occurred most often in public places such as streets, parks, and public transportation facilities, at 40%. California was the most frequent state for hate incidents and crimes, with 4,333, followed by New York with 1,840.
Cynthia Choi, co-founder of Stop AAPI Hate and of Korean descent, expressed that the history of Asian discrimination and exclusion is not new, but the COVID-19 pandemic has intensified it. Choi criticized the irresponsible behavior of politicians, particularly President Trump's racist statements, which made Asians, including those of Chinese descent, targets of blame. She stressed the need for mandatory immigration history education in public schools, active reporting by victims, and a systematic response by Asian communities, including the Korean American community, to help address anti-Asian sentiment and hate incidents.
Following the Atlanta incident, second-generation Korean Americans began speaking out politically against Asian hate crimes. Unlike their parents, who kept their heads down due to limited English proficiency and lack of political involvement, these middle school activists do not face language barriers and do not keep a low profile. A prime example is Mina Fedor, a 14-year-old second-generation Korean American middle school student from the San Francisco Bay Area.
After witnessing a harrowing rise in anti-Asian violence since the start of the pandemic and the Atlanta shootings that killed eight, six of them Asian women, Fedor organized a rally in March 2021 to bring attention to stopping racist violence towards Asian Americans. Following the rally's success, Fedor launched AAPI Youth Rising, a collective of middle school activists dedicated to uplifting their community and stopping racist hate.
In fall 2021, they joined other student-led coalitions in demonstrations of support for AB 101, an education bill that requires every public high school student in California to take an ethnic studies course. Governor Gavin Newsom signed the bill into law on October 12, 2021, and Fedor feels it will be crucial to stopping racial discrimination and violence. AAPI Youth Rising has now turned its attention to ensuring that ethnic studies education is available to students in all states, with around 70 branches in 50 states.
Fedor believes that if more people were aware of the long history of anti-Asian violence in America, the current surge in racist incidents towards the AAPI community could have been prevented – a rise exacerbated by xenophobic comments from former President Donald Trump. "Asian American history is American history, and everyone's history deserves to be taught and represented," Fedor says. She thinks that knowing history can help us move beyond discrimination and hatred, referencing the history of discrimination and suffering of Asian immigrants, including the Chinese Exclusion Act (1882), Japanese Incarceration (1941), and Vincent Chin's death (1982).
For her work as an AAPI activist, Fedor was recognized as a Kid of the Year finalist in 2021 by Time magazine.
Korean American-led organizations have been working together with other Asian American groups to respond to the Asian hate crime cases. On March 12, 2023, around 500 Asian Americans of Chinese, Korean, Filipino, and Vietnamese descent gathered at the Ferry Building in downtown San Francisco to hold the second-anniversary memorial for the victims of the Atlanta spa shootings. The memorial was organized by Asians Are Strong (AAS), an activist coalition launched by Chinese Americans, to stand up against Asian hate crimes together, and its leaders called for the individual Asian communities to join hands to create a safe society, stop Asian hate crimes, and break down prejudice against Asians.
To systematically respond to Asian hate crimes, Senator Dave Min (D, 37th district), the only senator of Korean descent in California, introduced the Hate Crimes on Public Transportation Survey and Response Act (SB 434). Senator Min emphasized the need to make sure that people do not have to worry about their safety on public transportation, stating that many Asians feel isolated, and grandparents worry about being attacked outside. He encouraged Koreans and Asians to be stronger together and not shy away from community and political activities or keep their heads down and complain, but to be active in politics.
It remains uncertain whether Asian hate crimes will end as the pandemic fades away, even though the U.S. government announced on February 9, 2023, that it will end the COVID-19 public health emergency on May 11, 2023. While the announcement does not mean that the pandemic is over or that COVID-19 is no longer a threat, some people viewed it as a declaration that the COVID-19 situation will end in May.
BY MOOYOUNG LEE  [lee.mooyoung@koreadaily.com]
---
News updates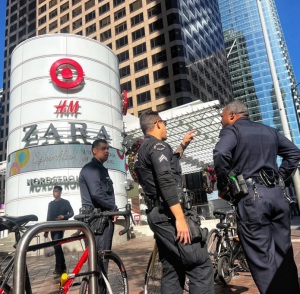 1. KAL stewardess attacked by a homeless man files damage suit against Target
A Korean Air flight attendant who was seriously injured in an attack by a homeless man at a popular downtown Los Angeles mall in November 2022 is suing for damages. The woman is alleging that the attack was caused by the negligence of retail giant Target, its security company, and the mall's management company. The plaintiffs are seeking physical and emotional damages, as well as attorneys' fees, and are claiming that the security company and the mall management company are also liable. In the complaint, the plaintiffs allege that "the incident that occurred on November 15, 2022, at Target inside the FIG at 7th, a popular shopping mall near Figueroa Street and 7th Avenue in Downtown Los Angeles, was caused by the failure of the business to provide adequate safety measures." A trial date has been set for Sept. 24 of next year.
2. 'K-ETA' exemption for U.S. citizens visiting South Korea
U.S. citizens will be exempted from having to apply for an Electronic Travel Authorization (K-ETA) for a visa-free visit to South Korea until next year. The South Korean government will allow foreigners from 22 countries, including the United States, Japan and Taiwan, to enter the country without a K-ETA from April 1 until the end of next year in an effort to boost tourism. However, if you want the benefits of applying for K-ETA, such as not having to fill out a disembarkation card, you can still apply for K-ETA 72 hours before departure. The fee is 10,000 won($7.7) per person. If you are a citizen and already have a K-ETA, you can use it until its expiration date.

3. Hyundai and Kia sued again for 'lack of anti-theft devices'
Six city governments across the United States have filed a series of lawsuits against Hyundai and Kia, Korean carmakers, over allegedly inadequate anti-theft devices in their vehicles. St. Louis, Missouri, Cleveland, Milwaukee, San Diego, Columbus, and Seattle have sued the companies for failing to install industry-standard anti-theft devices in their vehicles. Since May of last year, there have been more than 4,500 reports of stolen Hyundai or Kia vehicles in St. Louis alone. During that time, Hyundai and Kia vehicles accounted for 61% of all stolen vehicles in the city and 88% of all attempted carjackings.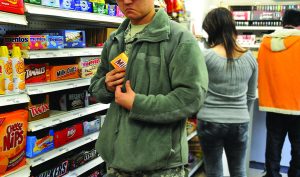 4. Shop owners in Koreatown are jittery as LA shoplifting reaches an all-time high
Shoplifting in Los Angeles has reached an all-time high, with an average of 28 incidents per day in February 2023. In January, there were 805 incidents of shoplifting, the highest number since 2010. Department stores were particularly affected, with 1,503 incidents since August 2022. It is believed that some high-value shoplifting is being carried out by organized criminal groups. Korean American business owners in particular are on edge due to the perception that they carry large amounts of cash. The rise in shoplifting is occurring while violent crime rates are decreasing.
5. The number of South Koreans visiting LA is increasing significantly
The number of Koreans visiting Los Angeles County has increased significantly, with 168,000 Koreans visiting last year, a 201.9% year-on-year surge, and the number is expected to increase by 52.4% to nearly 256,000 this year. LA tourism executives traveled to South Korea on March 17 to promote the latest LA tourism information, "LA 2.0," to key airline and travel industry officials. The LA tourism industry expects this growth to continue and to recover and exceed pre-pandemic levels by 2024-2025. The Korean-American travel industry in Los Angeles is also experiencing a surge in demand for inbound tours for Koreans.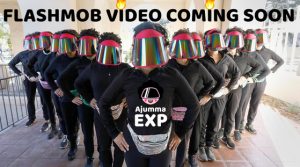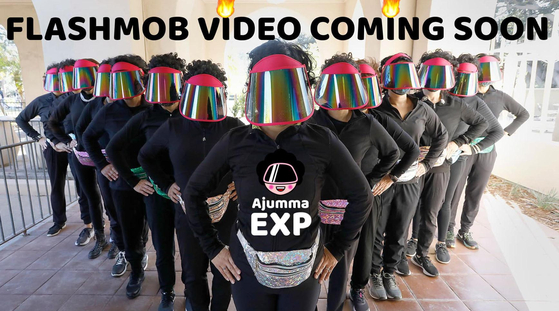 6. Flash mob dance crew of Korean 'middle-aged women' creates a sensation
Ajumma EXP, a dance crew made up of 30 middle-aged Korean American women in San Diego, is challenging negative stereotypes of middle-aged women by bringing joy and excitement to countless women through their flash mob performances. The group, whose name means "middle-aged woman" in Korean, has been preparing for over five months for their International Women's Day performance. According to the group's co-founder, Lee Ann Kim, they aim to inspire women to take on new challenges and to show that life can be more enjoyable as you age. The group's performances have gone viral on social media and earned them invitations to the White House and a music video for popular second-generation Korean American rapper Dumbfoundead.