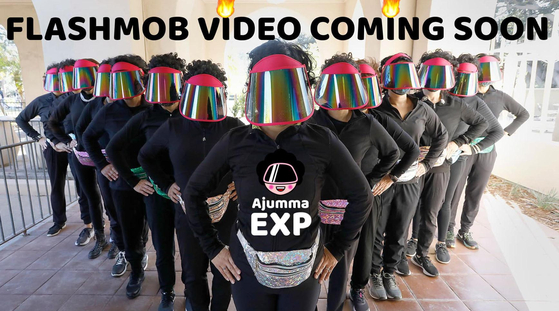 Online media outlet Nextshark recently published an article titled "Flash mob of dancing 'ajummas' shatters stereotypes during Women's History Month."
According to the article, AjummaEXP, a dance crew composed of 30 middle-aged Korean American women in San Diego, is bringing joy and excitement to countless women. The article also wrote that they performed on the streets of San Diego for International Women's Day on March 8.
"We've been practicing for more than five months for this performance," the group's co-founder, Lee Ann Kim, told the media, "and we've developed a special 'sisterhood' among the members as we've prepared everything from choreography to the costumes ourselves."
The dance group is not just a bunch of old ladies who know how to dance. Bringing back smiles, energy, and inspiring countless middle-aged women is the core reason for the group's formation.
"Most of our members have never danced before, and we wanted to share with the world the courage to take on new challenges and that life can be more enjoyable as you age," says Kim. "The word 'ajumma' for middle-aged women has a negative connotation, but we are taking pride in it and reclaiming its true meaning."
After five months of preparation, Ajumma EXP held flash mob dance performances at Chicano Park, Fashion Valley Mall, and Mission Beach in the San Diego area.
"We had so much fun dancing all day, it was like we had been practicing for hours," said Jocelyn, a member of Ajumma EXP. "It was so much fun to see the smiles on everyone's faces during the performance, including people on the street, family, and friends."
On their website (ajummaEXP.com), Ajumma EXP describes themselves as a "crew of fierce women who embrace growing older, getting wiser, and being able to laugh at [themselves]."
Although the term 'ajumma' is used in a negative way as an insult, they have been fierce, persistent, and have spent a lifetime enduring challenges. They have redefined the meaning, claiming that that they are proud to be ajummas because ajummas have the right to say what they want to say and be who they want to be.
Their flashmob performances have gone viral on social media, earning them invitations to the White House and a music video for popular second-generation Korean American rapper Dumbfoundead.
"We have been working tirelessly to break the negative image and stereotypes of middle-aged women," said Kim, adding, "You don't need to have dance experience or be Korean or Asian to be a member. Anyone who is an 'ajumma' can become a member through the website.
Ajumma EXP was founded in September 2017. The dance crew was founded by Lee Ann Kim, a former anchor at a local San Diego TV station, and Sonja Son, an accountant.
BY JANG YEOL [jang.yeol@koreadaily.com]