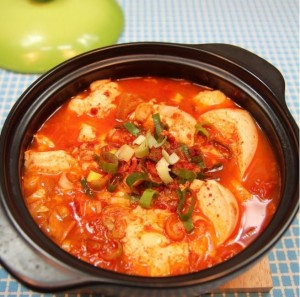 Sundubu jjigae (순두부지개), more commonly known as soft tofu stew, is a popular pick for both vegetarians and non-vegetarians at Korean restaurants. This stew features extra silken tofu and vegetables, making a divine, mouthwatering dish.
Get your protein from tofu and fill your cravings for a hearty vegetarian Korean meal with this tasty dish. There are varying levels of spiciness.
Soft tofu stew is usually served in a dark colored bowl made of thick porcelain and stone when the stew is still hot and bubbly, because it is fresh off the stove. This dish is eaten with a bowl of rice and a few banchan.
Unlike the easy-to-follow recipe of my previous recommendations like pajeon, juk, and bibimbap, the process of making sundubu jjigae is a bit more advanced. Sundubu jjigae requires a stew base from kelp, green onion, red pepper powder, soy sauce, garlic, mushroom, egg and water. Striking the perfect amount of water is the hardest step. But do not fret, because it comes with practice. The difficult part also comes in finding the right flavor with the seasoning.
However, for those of you who find this to be too challenging and time-consuming, there are pre-packaged versions of sundubu jjigae with the flavored powder and the chopped vegetables (but you will need your own soft tofu). Follow the simple instructions on the package for a synthetic, simplified version.
As with most dishes, add extra ingredients to personalize the dish to your own taste buds. You could add pot stickers, an extra egg, or an additional pinch of chili powder according to your liking.
By Hajin Lily Yi