Juk (죽) or rice porridge, is my ultimate comfort food. It is associated with fond memories; my mother would cook a warm bowl of juk on the days I felt sick and I would magically feel much better afterwards.
Juk  is made primarily of rice and water and is known for its nourishing qualities and helpfulness with digestion. The delicious porridge is also perfect for chilly weather. Leftover juk can easily be warmed up for breakfast the next morning, making it a convenient option to store overnight in the fridge.
Similar to jeon (Korean pancakes), juk  is versatile because of its numerous types and variations. Here are five types of vegetarian juk for those looking to delve into the age-old Korean comfort food – vegetarian style.
1. Sweet Red Bean Porridge (단팥죽)
The main ingredients are simple: rice, red beans, and rice flower with seasoning as you would like.
The thicker texture adds a nourishing flavor to the porridge and the natural sweetness from the red beans satisfies my sweet tooth.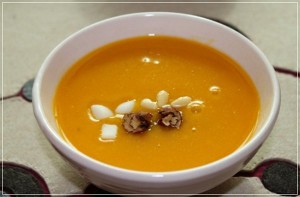 2. Butternut Squash Porridge (단호박 죽)
Another one of my favorite vegetarian juk option with enticing texture and savory flavors. Butternut squash porridge not only radiates with appetizing color but fills your tummy with deep rich taste.
3. Jatjuk (잣죽)
There is something traditional and authentic about the smell of jatjuk. Rice deeply soaked in water meets finely grounded pine nuts for a heavenly nutty combination.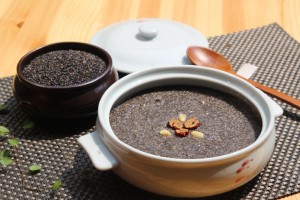 4. Black Sesame Porridge (검은깨 죽)
Black sesame seeds are a rich source of healthy minerals. The dark color adds a visually pleasing layer to the nutritious, hearty dish.
5. Vegetable Porridge (야채 죽)
By now, you can see the breadth and depth of the versatile options available in the world of juk. You could literally throw in your favorite mix of vegetables – carrots, spinach, and mushrooms are my personal favorite – with soaked rice and sesame oil for a healthy and tasty bowl of Korean porridge.
Overall, rice porridge goes well with kimchi on the side. Although it is typically eaten for breakfast, feel free to have it for lunch or snack. Juk is relatively simple to make and easy to digest, which is why it is one of my favorite vegetarian Korean dishes.
By Hajin Lily Yi