Just as their hit song "Up and Down" suggests, no other K-pop group has had a dramatic Cinderella story full of ups and downs like girl group EXID.
The group's very first mini album, released in February 2012, flopped, and the second one, released in August the same year, also failed to impress music fans. After this series of failures, the song "Up and Down" came out last August, but the track was not even included as one of the top 100 popular songs.
Looking at interviews the five members did when "Up and Down" was released, they had the worst-case scenario on their minds back then: breaking up the group.
"I feel like we're standing on the edge of a cliff. No more chances will be given to us if ["Up and Down"] fails," Solji told Ilgan Sports, an affiliate of the Korea JoongAng Daily, about a year ago.
Despite their hopes, however, "Up and Down" did not save the desperate girls.
Since the nature of the music industry is short-lived and fast-paced, if a song fails to steal the limelight upon release, the group has a slim chance of making it big in the music industry. But something extraordinary happened to the group as "Up and Down" began climbing the music charts last October, two months after the song's release, largely thanks to 'jikcam', or videos recorded by individual fans.
In the original jikcam uploaded in October, a fan recorded EXID member Hani dancing during a performance to "Up and Down," rocking her pelvis back and forth while wearing body-hugging micro shorts. The video attracted millions of views in a few months.
Eventually, the song topped major TV music shows in December, four months after its release, which had never happened before for any K-pop act. The girl group became a sensation overnight.
Just a year has passed since "Up and Down" began to rise in the music charts, and Ilgan Sports recently did an interview with EXID to look back on the past year, all over jugs of icy cold beer.
The interview was held at a pub in Apgujeong-dong, southern Seoul, right after the Chuseok holiday. Here are excerpts from the interview.
Since this is an interview with alcohol, let us know how much you usually drink.
Hyelin: I think I can drink one and a half bottles of soju. I go home when I'm feeling tipsy. The worst thing I did was cry after drinking alcohol.
Hani: I can't really drink. I think alcohol doesn't agree with me because my whole face turns red and I feel like puking if I drink just a sip of alcohol. When I'm really stressed out, I mix a little bit of alcohol with a lot of Coke and then drink the mixture.
How was your Chuseok? Did you do anything special?
Hani: I didn't feel like going home before, but this time was different. The family gathering was almost like a fan meet event. My brother-in-law got my autograph because his boss wanted it for his son. And my parents were all smiles as they watched me giving autographs. My father is so funny. My real name is Hee-yeon, but he keeps calling me Hani outside.
Hyelin: My parents came to Seoul to see me. We went to Garosugil [in Sinsa-dong] for shopping, and my father kept calling me "EXID Hyelin" in public.
It seems like you guys are doing a lot of shows, especially Hani.
Hyelin: It's been only a year since the success of "Up and Down." We've just started. But I'm also concerned about us because many people talk about the life span of K-pop groups. But the [short-lived] life span is highly dependent on us. We'll keep giving our all as long as we can.
Solji: My makeup artist once told me she sees us almost every day except for a month this year. We're doing a lot of things, but this is what we have been looking for for so long and we're all content with it.
How do you distribute the income? Does each member earn differently?
Hani: No matter how much each of us earn, we divide the total by five. That's what we had promised in the beginning of our careers.
Hyelin: I feel sorry for Hani because she's the busiest member and returns home in the wee hours almost every day. But she first proposed to us to distribute incomes evenly.
Hani: We all went through difficult times. I rather feel sorry for other members because a chance was given to me first. For me, it's physically challenging to do all the events, but I know other members are also having hard times because they may think chances are not given to them.
Some may find it boring, but we can't not talk about the dramatic story of "Up and Down." How did you deal with the time until "Up and Down" became a huge hit?
Junghwa: We talked to each other a lot, and it helped us overcome the difficult period of time because we couldn't even talk to our parents about what we had deep inside. And we had to stick together like real sisters as we went through that time.
You couldn't really promote "Up and Down" because the song had already been out for a while, but a majority of people didn't really know about it. How did you feel?
Hani: You know what we did back then? We were preparing a presentation to persuade the head of our entertainment agency. We thought we needed another song after "Up and Down," so we made a plan. We thought we could make a music video with a low budget, and LE would compose a song to save on production costs before we knew that "Up and Down" would begin to resurface in the music charts.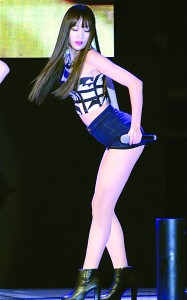 Have you ever met the fan who recorded the video of you?
Hani: He's been recording videos of us even after "Up and Down." And we came across him at an expressway rest area once. We were on our way to perform outside Seoul, and he was also on his way to see our performance. We took a picture with him and drank soft drinks with him, too.
Have you ever imagined what your life would be if "Up and Down" had never climbed the music charts?
LE: Maybe I would go back to the life of an ordinary person.
Hyelin: It would have been a huge blow to EXID.
Hani: It was a miracle. I was thinking about the end my career at that time. I realized how tough it is to survive in this industry.
What are your latest concerns?
LE: People loved "Up and Down" so much, and I'm kind of under pressure to prepare the next song that can compete with it.
Hani: But it is a song of our life. People will always compare our new songs to "Up and Down," but I'm grateful that we have such a hit song.
"Ah Yeah" came out after "Up and Down." Were you happy with the results the song brought?
Hani: I couldn't cry when we topped music shows with "Up and Down" because everything felt so surreal. But I cried a lot when we earned prizes with "Ah Yeah" because it felt so real.
LE: The song was quite similar to "Up and Down," and I really didn't expect that it would reap such a success.
Solji: Everything was marvelous. We appeared in almost every reality TV show, and we earned prizes from music shows. And Hani was hosting one of the music shows. It was an amazing experience.
Some entertainment agencies stop musicians from having romantic relationships. How's your company?
Junghwa: It encourages us to meet someone if we want. Sinsa-dong Tiger (EXID's producer) also thinks we should meet someone because we sing about love.
BY UM DONG-JIN [so@joongang.co.kr]