Back in April 2012, Facebook CEO Mark Zuckerberg announced his decision to acquire Instagram for a cool $1 billion.
The news stunned the global IT industry, which questioned Zuckerberg's move to buy a company with just 13 employees and no revenue.
Instagram is a social networking service that allows users to share and view images or video via a smartphone application.
Simple as it sounds, Instagram hits on the idea that an image is worth a thousand words; people quickly began using the service to do everything from staying in touch with friends to getting a business off the ground more effectively – and a little more beautifully.
Founded in 2010, the service now has more than 400 million active users every month.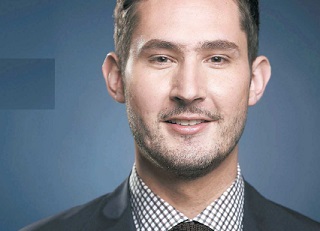 "A major trend that we see is that the way people communicate is changing. Billions of people around the world now have a powerful phone and camera right in their pocket. This is creating a profound shift towards visual communication [from text to image]," Instagram CEO Kevin Systrom said in an email interview with the JoongAng Ilbo.
"We created Instagram to help people turn the ordinary into something beautiful and memorable, to allow them to share and see the beauty in the every day. Since the beginning, Instagram understood the power of images to connect people to what is happening in the world around them. And now this shift to communicating more visually is reshaping entire industries, from fashion to music to advertising," Systrom said.
Systrom first realized his interest in imagery during his time at Stanford University, he explained in an interview with Fortune magazine last year. While majoring in management science and engineering, he said he discovered the beauty of photography and how it can bring people together. He then developed a photo-sharing website where he and his friends uploaded the photos they would take at parties.
He went on to internships at various start-ups, including Odeo – the company that would later become Twitter – and Google. But he eventually decided to pursue his own passion by co-founding Instagram with another Stanford graduate, Mike Krieger.
In its early stages, Instagram gained popularity among Twitter users who weren't able to share their photos. Popular features included the ability to crop photos into squares, which reminded users of old Polaroids, and its digital filtering functions, which suddenly gave everyday people the ability to retouch their images like a professional photographer.
Photos on Instagram can be shared on different social media, ranging from Twitter and Facebook to Flickr, Tumblr and FourSquare. Nearly 40 billion photos have been posted on Instagram, and 80 million photos are posted every day. Newest users include superstar footballer David Beckham and K-pop idol T.O.P of Big Bang, who saw more than one million users follow his account within a few days of joining Instagram.
So far, Instagram has shown the most rapid growth of any social media service. But the question is: Can this kind of success continue?
Systrom said the key word in the next half century will be "unpredictable," as the information technology atmosphere can change overnight.
When asked what he thought would be the biggest challenge tech companies will face in the next 50 years, Systrom answered, "Scale."
"We're now approaching services that touch billions of people. These billions of people live in various contexts with different devices, networks, laws, etc.," Systrom said. "Adapting to massive scale will create challenges, but it's also representative of the enormous opportunity afforded to technology companies."
He said being "nimble" and "fearless" will be key for companies in the future in an unpredictable and fast-changing future.
"Most of all, having a razor sharp vision," Systrom added. "At Instagram, our mission is to help people capture and share the world's moments – everything we do is built around that goal. But you have to build your team for speed to pursue that mission, and you have to be fearless in the opportunities you want to pursue."
Systrom said the company's values are simplicity and creativity and also put emphasis on craft.
"Craft is a word we use a lot at Instagram, and I think it's what differentiates us," Systrom said. "It captures how we approach problems and the products we build. With everything we do, we care deeply about the quality of how something is made, and the experience it enables. We don't strive to have the most features, or bells and whistles. We try to solve real problems elegantly and to make the complex simple.
"The basic functionality of Instagram has changed very little since we launched in 2010; we want to make it quick and easy to share a photo and make it look the way you want it to."
That simplicity has helped Instagram become a culture unto itself, giving rise to lingo like "selfie" and the Korean-preferred "selca," a portmanteau of "self" and "camera."
The app is particularly popular in Korea, whose users are more active than those in other countries.
During a conference call with investors to discuss earnings in the first quarter of 2015, Facebook CEO Mark Zuckerberg said Instagram saw its number of users from Korea and Japan more than double year on year.
Systrom said he was thrilled at how Koreans were embracing Instagram, which he said seems like a natural fit for one of the world's most wired countries.
"The Korean community seems to be keen to embrace new technology in every aspect of their lives and is quick to adapt or even create new trends," Systrom said.
"We've noticed a unique local Instagram trend where Koreans create new phrases by combining a certain topic and Instagram, which has led to popular Korean hashtags as #meokstagram [eat+stagram], #meongstagram [woof+stagram] and even #nyangstagram [meow+stagram]. I've heard that the 'eat-stagram' sensation in the Busan area has led to increased number of patrons visiting dining spots based on food photos shared on Instagram."
He said he hopes Instagram will play a powerful role in Korean popular culture as it expands around the world.
"It's amazing to witness the popularity of Korean stars such as EXO member Chan-yeol, Big Bang members G-Dragon and T.O.P, and their ability to connect with their fans around the world on Instagram," Systrom said. "Korean stars have recorded high engagement numbers on Instagram over the past year with a phenomenal two billion likes and comments from their fans globally, and a total of 150 million collective followers."
Systrom also showed his admiration for Korean companies, saying that from both his personal experience and what he has read, Korean companies are agile and quick decision makers.
"These attributes allow them to be at the cutting edge of their respective industries, be it electronics or automotive," Systrom said. "I think Korean companies pay close attention to technological advances and move quickly to adapt to changing market realities. The success of Korean companies certainly speaks for itself.
"With a high affinity for mobile devices, Korea is certainly an important market for Instagram. I hope that Instagram can contribute to the Korean community and economy by connecting people to interests that they are most passionate about, and for brands and businesses to their customers."
So what's next for Instagram? According to Systrom, the company is now focused on expanding in the mobile advertising market.
"Businesses want to reach a captive audience and a community of people looking to be inspired," he said. "With our roots in visual storytelling, we can provide the platform for businesses to do great work."
BY LEE SO-AH [kim.jiyoon@joongang.co.kr]