JEJU – A wooden board with seven wall clocks welcomes visitors at the entrance to the first Jeju Center for Creative Economy and Innovation (CCEI). The clocks tell the time in different cities around the world – from Bali
to Bangkok and Shanghai to Santa Monica.
Underlying the unconventional selection of time zones that does not include New York or Tokyo is the center's goal to grow into an attractive space for start-ups in Asia. Past the wall of clocks is a cafe-like shared space where visitors can work on their laptop, have a casual meeting or make conference calls.
A lecture for Jeju provincial government officials on developing an Android app is under way in one of the rooms and some entrepreneurs are
being consulted about legal issues in another.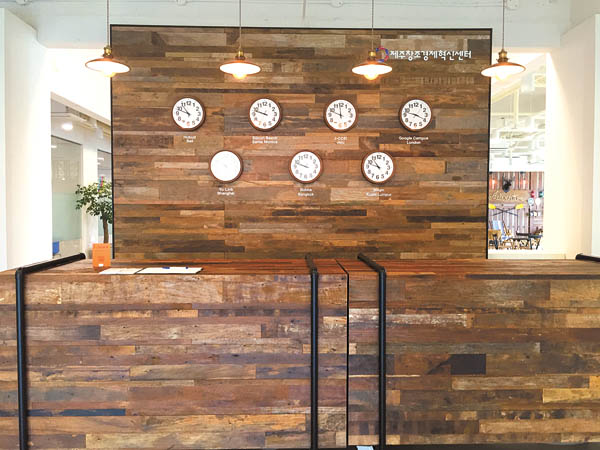 The five month-old center's successful evolution will eventually transform the scenic island into a beach town vibrant with IT nomads, including entrepreneurs and developers, believes Jeon Jeong-hwan, CEO of the first Jeju CCEI.
Bali's Hubud, Bangkok's Bubba, Shanghai's Yu-Link, Santa Monica's Silicon Beach as well as Kuala Lumpur's Magic and London's Google Campus have already played similar roles for each city and are the models Jeju CCEI aims to replicate.
"Given the global trend of resort cities, where artists used to congregate, seeing an influx of top-notch IT experts leading to the creation of Hubud in Bali and several others, I believe Jeju has sufficient potential to become one of those," said Jeon. He cited ample natural and cultural assets and the recent influx of diverse human resources as key qualities of the island.
For those who have perceived Jeju only as a resort island that is popular among locals and Chinese tourists, the center's goal may seem overly ambitious. The region has no major conglomerates, except for a few leading IT companies including Kakao, or a top university. The island's population is only 600,000, a mere 6 percent of Seoul's total.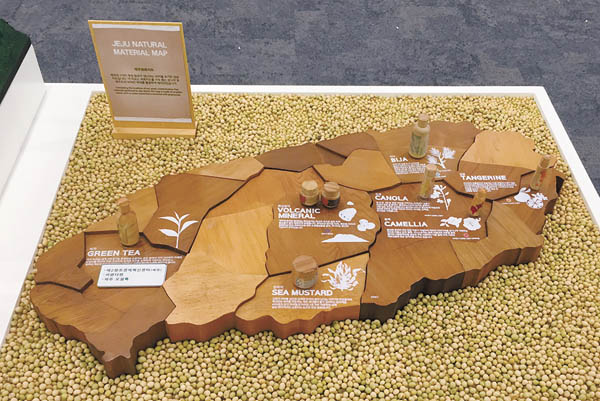 But the island has seen a wind of change in recent years, largely propelled by a constant inflow of urban dwellers with varying professions and expertise. There are about 10,000 newcomers a year, according to Jason Lee, a PR manager from Kakao, who has been dispatched to the first Jeju CCEI.
Some professionals quit their urban occupations to spend more quality time with their family and open up a cafe or guest house. Others were dispatched from the Seoul Metropolitan area to be temporarily stationed at the Jeju branches – Kakao, Nexon and Eastsoft, for instance. Moving to Jeju has become even more fashionable after a flurry of celebrities, singers, in particular, have also jumped onto the bandwagon. Lee Hyori, once described as Korea's Madonna, is one of those who sparked the Jeju frenzy after she settled in the island when she got married in 2013.
TNDN, one of nine start-ups that the first Jeju CCEI has accommodated and supported since July, represents the synergy the area generates. Lee Min-seok, a Jeju-born student at Yonsei University in Seoul, came back to his home town to develop a restaurant guide app specifically designed for Chinese travelers. He joined forces with a Chinese Korean student at Seoul National University who speaks perfect Chinese.
"I discovered that the restaurants most Korea-developed tourism apps recommend used to cater to Japanese tourists 10 years ago," said Lee. "Chinese tourists have totally different tastes and expectations. For instance, they don't like samgyetang (ginseng chicken soup) because it tastes weak and not spicy enough, which many Koreans do not know."
The app, available for Android, China's Xiaomi and some other operating systems, will gradually expand into other tourism fields such as accommodation and ultimately form a basis for the Jeju Island's goal to build a unified tourism platform, according Lee of Kakao.
The CCEI has recently launched a human resources library to help locate professionals who are migrating to Jeju and are mostly scattered across the island. The HR bank aims to collect 130 profiles of migrants by December and host networking parties, which the center believes will contribute to the island's long-term growth.
The first Jeju CCEI, located near Jeju International Airport north of the island, is one of 18 CCEIs that have opened nationwide since September last year as part of the creative economy drive, a top policy agenda for the Park Geun-hye administration.
The centers were matched up with conglomerates and companies that provide technology transfer and capital investments with fledgling local businesses or start-ups. They hold demonstration days for companies being incubated. Central and local governments also offer administrative support and subsidies. Samsung Electronics was the first to open a center in Daegu which recently celebrated its first
anniversary.
Jeju is an exception, accommodating two centers involving two companies from different industries. The initial Jeju CCEI was paired with Kakao, operator of the nation's most popular mobile messenger KakaoTalk. AmorePacific, the No. 1 cosmetics producer, launched a second CCEI just last week.
The two companies were chosen because they had been already active on the island for a long time. Daum Communications, which was merged with Kakao last year, has operated a Jeju office since 2004 and eventually relocated its headquarters from Seoul to Jeju in March 2012. AmorePacific, on the other hand, maintains several green tea fields that supply its O'Sulloc brand, and one of its cosmetics brands Innisfree is based on ingredients native to Jeju.
Housed on the second floor of Jeju Science Park not far from the first one, the second Jeju center will be largely devoted to providing mentoring for small, local cosmetics producers and helping them pioneer a marketplace for sales. The center holds various machines and devices for smaller manufacturers that cannot afford expensive experiment and test equipment.
Despite the good intentions, the creative economy center faces barriers supporting small cosmetics businesses, a PR manager from the AmorePacific admits.
"It would be the best-case scenario if we could co-develop innovative products indigenous to Jeju with the ideas and products from those smaller players in the island," he said. "But in many cases the cosmetics they come up with are below standard. We can't accept a product development proposal for a simple mixture of green tea extract and some oil, with no special technology involved."
Some local companies have boldly sought cash instead of aid, which he says "totally goes against the creative economy," he said.
He also pointed out that some of the roles of the new CCEI overlap with those handled by an existing techno park that the Jeju provincial government launched to support start-ups. The roles include technology transfer and training for aspiring businesses.
"It would be great if both sides could adjust the roles and minimize wasting resources as much as possible, but the provincial government must come up with a visible outcome out of the techno park it runs," he said.
The same point was made three months earlier by Lee Byung-woo, head of the South Chungcheong center. "The Ministry of Science, ICT and Future Planning needs to be more actively involved in adjusting the functions of existing techno parks and CCEIs so as not to waste resources on their overlapping operations," he said.
Although a lawmaker proposed merging techno parks and creative economy centers, the government's stance appears persistent.
Since the CCEI project was hatched, many observers predicted it will end up as short-lived propaganda and last only through the end of this administration in February of 2018. History shows the vicious circle of one administration's key policies being ditched by the next.
But the sentiment in Jeju is far from negative, at least for now. Both centers vow to continue the creative economy drive beyond the Park administration, and there are a number of reasons for the confidence.
AmorePacific already had a mega-size business projects planned on the island before the CCEI was launched, with a budget of more than 100 billion won ($88.9 million).
Jeju, the most popular tourist destination for many Chinese, was a strategic choice, given that Korean cosmetics – represented by the new appellation K-beauty – has grown into an indispensable component of Korean tourism. The trend was preceded by the Korean wave, or hallyu, which drew global attention to the beauty secrets of Korean celebrities.
The company is set to develop a new green tea production field spanning 13,223 square meters in Seoguipo which will accommodate a high-end spa resort. The idea came from winery villages in Europe, according to Kim Ji-hyun, an AmorePacific spokesman.
A couple of villages growing cosmetics ingredients indigenous to Jeju – such as camelia, green beans and nutmeg, or bija in Korean – will be developed into tourist towns, displaying production processes. When the areas are linked altogether, the island's tourism business will gain, says Baek Seok-yun, CEO of the second Jeju CCEI. Tourism will ultimately combine with the apps and technologies developed by entrepreneurs at the first CCEI.
"We ran a business for over a decade here already," Lee of Kakao also said, "and we won't leave behind the center just because the administration changes. Having a sarcastic view will only break the spirit and do little to help."
BY SEO JI-EUN [seo.jieun@joongang.co.kr]