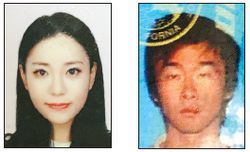 Yoo Mi-sun (26), the wife of the couple murder case last weekend in LA Koreatown turned out to have been intoxicated with alcohol and cocaine at the time of the incident, police reported. Yoo is currently charged with first-degree murder.
LAPD announced, "At the time of the arrest, Yoo first denied committing the crime. When the fingerprints on the knife matched with Yoo's fingerprints, she argued that she 'touched the knife while trying to take it away after a robber stabbed Sung, her husband'."
According to the authorities, Yoo stabbed her husband only once instead of several times. However, the knife was stuck right into Sung's heart and he died from excessive bleeding. Professional criminal lawyers argue that if it is true Yoo stabbed Sung only 'once', the murder will be more likely accidental; however, if it was 'several times', the murder will be more likely considered intentional. In addition, the fact that the used weapon was a kitchen knife hints that the crime might have been accidental.
"If Yoo was so intoxicated with alcohol and drugs that she had a lack of judgement and the crime was accidental, it is possible that she can get a second-degree murder charge and a life sentence without parole", lawyer James Kim said. He added, "if the husband first used violence and Yoo committed the crime for self-defense, the sentence may be reduced."
Yoo's trial will take place on the 21st at the LA County courthouse (210 W. Temple St.).
Original article
by Lee Woo-soo