A 26-year-old wife reportedly murdered her 31-year-old husband in their Los Angeles Koreatown home on July 30 at around 5 a.m. The husband was stabbed to death.
The Los Angeles Police Department (LAPD) reported to the couple's apartment at 1100 South Menlo Avenue after learning about the incident in the early Sunday morning.
By the time the policemen arrived at the apartment, Tae-kyung Sung—better known as Andy—was found dead with multiple wounds, caused with a kitchen knife, on his chest. Mi-sun Yoo was arrested on the scene on the accusation of first-degree murder.
"Someone who saw Yoo walking into her house while covered in blood from stabbing her husband called the police," said LAPD homicide Lt. John Radtke. "Both Sung and Yoo were intoxicated on alcohol at the time of the incident. If the stabbing was motivated by domestic violence, there's also a possibility that Yoo's murder of Sung could be a justified self-defense."
It was since been learned that Yoo and Sung both worked in the merrymaking business of L.A. Koreatown for many years, according to sources close to the couple.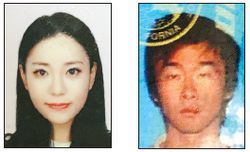 Sung, a first generation immigrant, worked as a manager at a Koreatown karaoke before he became an executive manager at a prominent Korean nightclub on Wilshere Boulevard three weeks ago.
Yoo immigrated to the United States in recent years. She has since worked as a karaoke doumi, a Korean term for a hostess who is hired to sing and dance for men, before leaving the business after her marriage with Sung at the end of last year. The couple has reportedly lived at the apartment since April.
The tenants at the apartment testified that the couple often consumed alcohol late at night and that both came home relatively late.
"On the day of the murder, Yoo visited the club where Sung works," said one of the sources. "They were apparently enjoying alcohol before coming home together."
On the note found on the wall of the couple's home, they apparently agreed to ▶respect one another ▶limit consuming alcohol and playing video games ▶always side with one another ▶never express anger together ▶always let the partner win ▶never call one's family after getting into an argument. At least on the surface, the couple was trying to build a trust in their relationship.
Yoo's bail is currently rated at $2 million. She is set to face indictment this month.
By Woosoo Lee and Jaera Kim