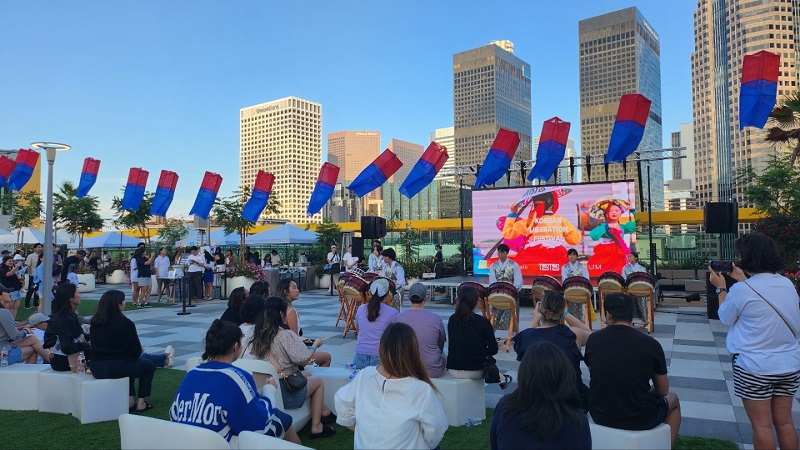 A group of second-generation young Korean Americans hosted a two-day festival to celebrate the 78th anniversary of Korean Liberation Day on the rooftop of TENTEN Downtown. The event took place from 4 p.m. to 8 p.m. on August 12 and 13.
The festival showcased a diverse array of activities including Korean percussion performances, fan dances, a K-pop concert, as well as culinary delights, beverages, and crafts. This comprehensive experience provided attendees with an opportunity to commemorate Korean Liberation Day, observed on August 15.
Around 50 small businesses, including Moowon Ceramics, LOUPIN sterling silver, and hanboutiQ, displayed their products at booths set up for the event. Additionally, six youth organizations – Koreatown Youth & Community Center, YMCA, Hwarang Youth Foundation, Korea Peace Now, Korean Resource Center, and OKTA LA – utilized tables to promote their respective activities.
This marked the second annual event organized by Live.Love.Create Events and Maum Market, the creators of the Korean Liberation Festival in 2022. Christine Chang (39), a second-generation Korean American, founded Live.Love.Create Events, an event planning group. Arnold Byun (28), a 1.5-generation Korean American, and Kioh Park (33), a Korean immigrant, co-founded Maum Market, a pop-up market highlighting locally-based Asian-owned brands and businesses.
Byun shared, "We organized this festival to provide second-generation Korean Americans with an opportunity to reconnect with their Korean heritage and to learn about Korea's journey to independence. Additionally, we wanted individuals from various ethnic backgrounds to engage with Korean history in a more celebratory atmosphere." Byun personally distributed complimentary beverages to participants at the event.
Chang explained her motivation for planning the festival, stating, "As a mother, I came to realize the importance of educating our children about Korean history and our origins. Otherwise, the legacy and roots of Korea may fade away."
Approximately 1,500 people attended the festival, not only Korean Americans but also individuals from diverse ethnic backgrounds. The event was adorned with traditional Korean lanterns and the national flags of South Korea and the United States, all set against the backdrop of resonating K-pop music.
BY MOOYOUNG LEE [lee.mooyoung@koreadaily.com]