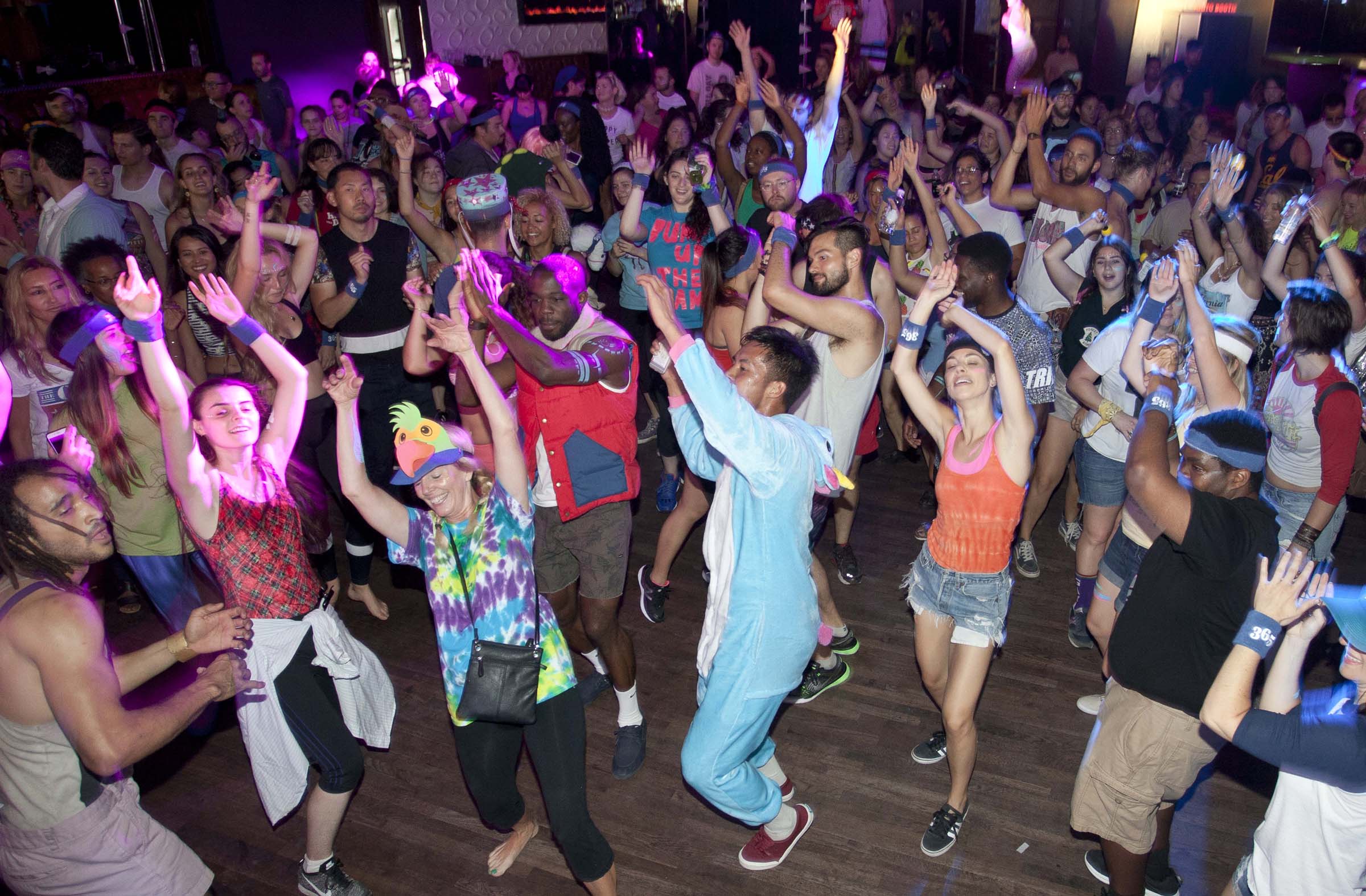 6:45AM at a shopping mall in Hollywood.
The reason that I drove all the way here only minutes after the sunrise is 'Ohm', the "nightclub" located on the fourth floor of this building.
There were several reports claiming that some people come here in the morning and dance for hours. As I opened the club's entrance door, I could hear strongly beat music and feel the hot steam from inside. On the dance floor, approximately 500 people were frantically dancing together and it even felt like an earthquake as they were all jumping at the same time with rapid dance music.
Some may think that they are 'all-nighters', who spent their time in the nightclub until next day's morning, but if looked closely they don't seem like typical 'clubbers'.
Instead of super dressed-up outfit, they are wearing light sportswear. Also, the age groups were from children to seniors. In the center of the dance floor, some people are even jumping ropes altogether.
This dance party is called 'Daybreaker', which is a new exercise culture that is rapidly spreading out in the United States. Daybreaker usually starts at 6AM , before all daily schedules start, and ends around 9AM.
Unlike typical dance parties that are full of alcohol, drugs, and expensive entrance fees, Daybreaker is only focused on helping the citizens build healthier lifestyle with "waking up" their minds and bodies with dancing and sweating. The day I went to Daybreaker was the Presidential Primary Election day, and one of the "daybreakers" was dancing while holding a picture of Bernie Sanders' face.
Daybreaker was founded by Radha agrawal (37) and Matt Brimer (29), who both worked in the IT industry and introduced Daybreaker for the first time in New York in 2013. Brimer, in his interview with The New York Times explained, "New York City's nightlife makes people dull and tired. We thought an event before school or work that can make anyone start the day with joy and energy was needed."
Grace, whom I met at the club that morning said, "I came to Daybreaker instead of jogging. I enjoyed so much until I sweated all over my body in such a bright and upbeat ambiance."
Daybreaker's theme, 'wellness' could be found everywhere in the club. The participants can also register for yoga class before the dance party. There were some people dancing still in their yoga outfit. Instead of a bar that sells alcohol, there was a 'juice bar' where people can get organic coffee and fresh-squeezed fruit juices for free. There was also free breakfast provided with fruits. A lot of families came together to start their morning together before they each head to school or work.
To participate in Daybreaker, you can check their schedule and book online on their official website (www.daybreaker.com). Daybreaker usually opens once every two to three weeks. The cost is $20 if you book online beforehand, and $40 with yoga class.
Original document available from http://www.koreadaily.com/news/read.asp?page=2&branch=NEWS&source=LA&category=&art_id=4335256
Translated by Audrey Joung