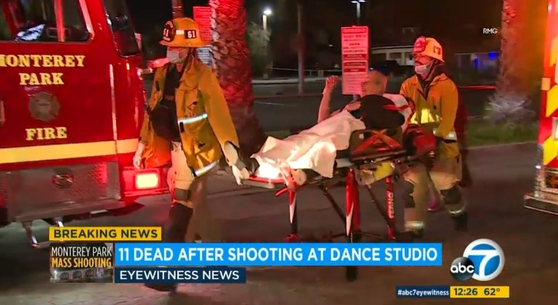 Death Toll of the Monterrey Park shooting has risen to 11.
An official at the USC Medical Center in Los Angeles County said on the 23rd that one person being treated from the shooting injury died at the hospital.
As a result, the number of victims of the shooting at Monterey Park sums up to 11, including 10 who died on the day of the incident.
According to county health officials, three injured people are being treated at the county USC Medical Center, two of whom are recovering and the other is in critical condition.
Robert Luna, director of the Los Angeles County Sheriff's Office, said 10 people were taken to hospitals shortly after the incident, with seven of them still in the hospital.
Some of the victims were identified.
The Los Angeles County Coroner's Office released the identities of My Nhan (65) and Lilan Li (63) of the 10 victims on the morning of the 23rd.
The identities of the eight other victims will be released after being notified to the family. Their age range is known to be one woman in her 50s, two women in their 60s, two men in their 60s, and three men in their 70s.
The gender or age range of the victim who died while being treated at the hospital has not yet been disclosed.
According to witnesses and acquaintances at the scene at the time of the incident, the victims included Ming Wei Ma, a former student who helped manage the dance studio.
By Kim Byung Il