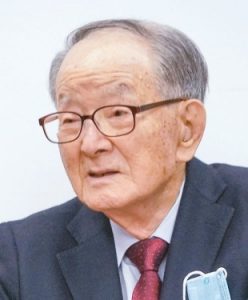 Chong-Moon Lee (95), the chairman of AmBex Venture Partners, who donated $1 million to UC Berkeley in March, has been honored with a dedication on the "Builders of Berkeley" granite monument.
UC Berkeley unveiled the Builders of Berkeley granite monument on October 25, in front of the DOE Library, to honor major donors. The names of those who donated $1 million or more this year are engraved on the monument set up on both sides of the plaza in front of the library.
At the event, UC Berkeley invited donors, including Chairman Chong-Moon Lee, who donated $1 million or more, to receive a plaque of appreciation. Lee, accompanied by his wife, Reiko Lee, attended the event and viewed the monument bearing their names.
During the ceremony, UC Berkeley Chancellor Carol Christ expressed gratitude to the donors for their generosity, which facilitates new research and improves the academic environment for students.
Lee's $1 million contribution is designated for enhancing Korean resources at the UC Berkeley East Asian Library. This marks the first instance of a North American university library receiving such a substantial donation dedicated to Korean studies. In March, the university announced that in recognition of this contribution, the East Asian Library's Korean collection would be renamed the Chong-Moon Lee Center for Asian Art and Culture.
"I want to use my life's savings to help Koreans know their roots and I want the Korean community to have a community spirit," said Lee.
The younger brother of the late Chong-Kun Lee, founder of South Korea's CKD Pharmaceuticals, Chong-Moon Lee amassed significant wealth in the U.S. after founding the IT company Diamond Multimedia Systems in 1982. His wealth soared following the sale of the company in 1995. Presently, he is the chairman of AmBex Venture Partners, focusing on IT company investments and contributing to society through philanthropy. His previous philanthropic endeavors include donating $16 million to the Asian Art Museum of San Francisco and $4 million to Stanford University for international studies.
BY HYOUNGJAE KIM, JUNHAN PARK    [kim.ian@koreadaily.com]