During Halloween celebrations in Itaewon on Oct. 28, 158 people were killed in a crowd crush.
It was the most deadly accident since the sinking of the Sewol ferry, which claimed over 300 lives in 2014.
The Itaewon tragedy unfolded when an estimated 100,000 people gathered in the area days ahead of Halloween.
As crowds coming from opposite directions converged in a narrow, 45-meter-long alleyway next to the Hamilton Hotel, scores perished.
Of the fatalities, 206 were in their 20s, 11 were in their teens; 102 were women.
In total, 26 foreigners died.
The tragedy didn't end that night, as some continue to suffer from PTSD. A teenage survivor who witnessed the death of friends committed suicide on Dec. 14.
Following the tragedy, President Yoon Suk-yeol made a public apology and announced a national mourning period that lasted a week. Events, including sporting events, were postponed.
Belated responses from the police, the fire department and the Yongsan District Office were criticized and investigations continue.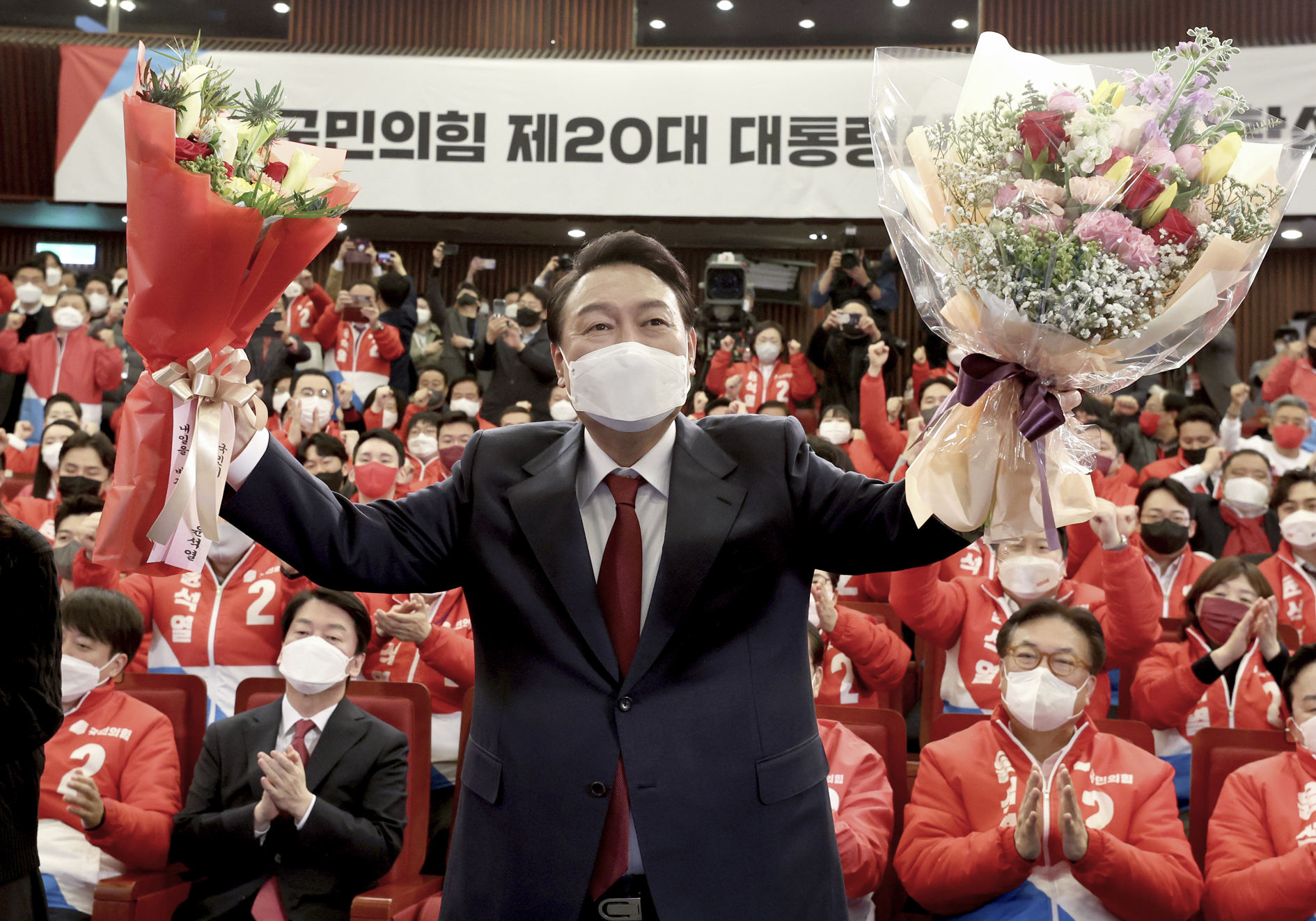 Yoon Suk-yeol of the conservative People Power Party (PPP) was elected president on March 9 in the closest presidential election in Korea's history.
The former prosecutor general beat his liberal rival, Lee Jae-myung of the Democratic Party (DP), by a razor-thin margin of 0.73 percentage points.
Days ahead of the election, presidential candidate Ahn Cheol-soo of the minor People's Party dropped out of the race and endorsed Yoon.
The two parties later merged. Yoon was inaugurated as Korea's 20th president on May 10.
Yoon's PPP saw another victory in the local elections and parliamentary by-elections on June 1, clinching 12 of the 17 key metropolitan mayor and provincial governor posts contested, including Seoul mayor.
In the seven National Assembly seats contested in by-elections, the PPP won five and the DP two.
Lee won a seat representing Incheon's Gyeyang District B constituency and was elected chairman of the DP in August after his party's leadership stepped down en masse to take responsibility for the June 1 election defeat.
The PPP in turn saw leadership turmoil when its ethics committee suspended Chairman Lee Jun-seok's party membership for six months over allegations that he accepted sexual services paid for by a businessman in 2013 and abetted in an attempt to destroy evidence related to the incident.
In August, the PPP launched an emergency steering committee, ousting Lee, who had become the youngest leader of a political party the previous year. It will select a new chairman next March.
North Korea launched a record 67 ballistic missiles this year, including eight intercontinental ballistic missiles (ICBM).
After several suspected failures, the North conducted its first successful launch of a Hwasong-17 ICBM on Nov. 18, according to both state media and South Korean defense officials and experts, marking significant progress in the regime's missile range.
Pyongyang also tested two medium-range ballistic missiles (MRBM) that it said carried a test satellite as part of a final test before the regime launches a spy satellite next year.
The North also signaled it was doubling down on its weapons programs in other ways.
On April 26, leader Kim Jong-un said in a statement that the regime would move its nuclear-armed military to acquire pre-emptive attack capabilities, followed by a Sept. 9 speech where Kim said his regime's status as a nuclear weapons state "has become irreversible," and that there will "never be any declaration of giving up nukes or denuclearization" in future negotiations.
Kim's September speech heralded the passage of a law that authorized first-use of nuclear weapons if the regime's leadership is threatened by an attack. The law also codified two missions for the regime's nuclear forces: deterrence and repulsion of an attack if deterrence fails.
Prosecutors' investigation into the Daejang-dong development corruption scandal continued throughout the year, stalking Democratic Party (DP) Chairman Lee Jae-myung even as he pivoted from losing the March presidential race to winning both a June parliamentary by-election and an August party leadership contest.
A string of bribery indictments associated with the real estate development in the Daejang-dong area in Seongnam, Gyeonggi — where Lee was once mayor — has empowered internal party opposition and led former allies to distance themselves from the party leader.
Prosecutors in November arrested two of Lee's closest aides, Jeong Jin-sang and Kim Yong, whom they suspect of not only accepting bribes from investors in the project but also passing on money to Lee himself.
At least two people charged with bribery and economic malfeasance in the case — Yoo Dong-kyu, former acting president of former Seongnam Development Corporation, and lawyer Nam Wook — have indicated they are ready to divulge more details about Lee's alleged involvement in the scandal.
Kim Man-bae, the owner of a once-obscure asset management company called Hwacheon Daeyu that is at the center of the scandal, attempted to take his own life in early December after prosecutors detained two of his acquaintances, Lee Han-seong and Choi Woo-hyang, on charges of concealing allegedly illegal profits reaped by Hwacheon Daeyu in the Daejang-dong development.
President Yoon Suk-yeol and U.S. President Joe Biden held their first summit in May, the quickest ever for a new Korean president to meet with an American leader, to show that Seoul and Washington's alliance is stronger than ever.
The Korea-U.S. summit took place on May 21, just 11 days after Yoon's inauguration. South Korea was Biden's first stop in his first trip to Asia after taking office in January 2021.
At the summit, the two leaders agreed to expand the "scope and scale" of combined military exercises and training on the Korean Peninsula in response to Pyongyang's evolving threats. They also committed to the deployment of U.S. strategic military assets "in a timely and coordinated manner" to reinforce extended deterrence.
They agreed to strengthen the relations to a global comprehensive strategic alliance.
Yoon and Biden were reunited at a NATO summit in Madrid in late June. This marked Yoon's debut on the multilateral diplomatic stage and his first overseas trip since he took office.
It was the first time Korea, alongside leaders of three other Asia-Pacific countries, Australia, Japan and New Zealand, had been invited to attend a NATO summit.
Yoon held his first trilateral summit with Biden and Japanese Prime Minister Fumio Kishida on the sidelines of the NATO summit and agreed to share real-time intelligence on North Korea's missiles.
The three leaders held another trilateral meeting in November on the sidelines of Asean meetings in Phnom Penh, Cambodia. Washington has encouraged Seoul and Tokyo to patch rocky bilateral relations and strengthen three-way cooperation in light of security threats in the region.
Record-shattering rainfall during the summer led to colossal property damage, left several dead, and set off a furious public debate about preparedness for weather events.
From Aug. 8 to 13, most of the country's central and northern regions including the greater Seoul area – the capital, Incheon and Gyeonggi – were pounded by nearly 100 to 300 millimeters (4 to 12 inches) of rain a day, breaking decades-old records and killing 14 people in total, including eight in Seoul.
Over 2,000 flood victims and 10,000 cases of property damage were counted.
Seoul's southern areas were the hardest hit, in part due to its lowlands and the Han River nearby.
A family of three who lived in a semi-basement home in Gwanak District, southern Seoul, drowned, prompting the government to devise support measures for low-income residents dwelling in similar environments.
On Sept. 6, Typhoon Hinnamnor slammed the nation's southeastern regions, dumping as much as 116 millimeters of rain per hour. Ten people died in Pohang and one in Gyeongju and more than 10,000 cases of property damage were reported in homes and buildings.
In Pohang, seven people from the same apartment complex died while trying to move their cars from the underground parking garage.
Just days into 2022, a tragedy struck when an apartment building under construction collapsed, killing six workers.
On Jan. 11, the 23rd through 38th floors of Hyundai Development Company's (HDC) I'Park in Hwajeong-dong, Gwangju, collapsed as it was being built.
Three days later, the body of a worker was found in the basement of the apartment that collapsed.
This accident came shortly after nine people were killed when part of a building being demolished in Gwangju collapsed in June 2021 and fell on a passing tour bus.
Chung Mong-gyu resigned as co-CEO of HDC Hyundai Development six days after the accident, though he still retained his title as the chairman of HDC Holdings, which owns 40 percent of HDC.
Chung owns 36.5 percent of HDC Holdings.
The apartment is built was slated to be demolished after the accident despite already being 60 percent complete.
Three years into the Covid-19 pandemic, more than half of Korea's population tested positive for the coronavirus at some point, yet new waves continue to rise and ebb due to emerging variants.
The Omicron variant drastically pushed daily cases up to over 620,000 in mid-March, remaining the highest figure that the country has ever counted.
But even as the nation saw tens of thousands of new cases on a daily basis this year after that peak, the government has since eased most Covid restrictions that had been in place since the early days of the pandemic, citing weakened physical symptoms and public fatigue.
The eased restrictions largely encouraged society and businesses to get back to their pre-pandemic lives, resuming overseas travel and joining mass gatherings.
In April, people were again allowed to gather in large groups, and restaurants and bars were allowed to stay open until late into the night. The outdoor mask mandate was lifted over two phases.
Other scrapped measures include the mandatory quarantine for all incoming travelers, as well as Covid tests before and after departing for Korea.
Last week, health authorities announced that the indoor mask rule could get scrapped in January, though the face coverings will still be required in medical facilities and on public transportation.
No changes have been implied for the seven-day quarantine period for infected patients.
President Yoon Suk-yeol moved the presidential office into the Defense Ministry compound in Yongsan District, central Seoul, marking the end of the Blue House era.
As a presidential candidate, Yoon had promised to move the presidential office out of the Blue House, the isolated compound at the foot of Mount Bugak in northern Gwanghwamun in central Seoul, seen as a "symbol of imperialism." Yoon pledged to become a president more approachable to the public and press and to return the Blue House to the public.
After mulling several locations, Yoon decided on the Defense Ministry compound for the site of the new office. However, the move also raised many concerns over security and budget.
On May 10, Yoon started his first day of work in the new presidential office, making him the first Korean president to separate himself completely from the Blue House and open the new "Yongsan era."
The move put the president, his aides and the press under the same roof. Yoon also held daily "doorstepping" sessions, answering questions from the press each morning on the way to work, which became his trademark.
These sessions were suspended in November after an MBC reporter and a presidential aide got into a verbal altercation.
The foreign minister's official residence in Hannam-dong, near the Defense Ministry, was remodeled into a new presidential residence. Yoon commuted to work from his private residence in Seocho-dong, central Seoul, for many months.
He and first lady Kim Keon-hee moved into the new presidential residence in November.
Simultaneously, the Blue House was opened to the public for the first time with the inauguration of Yoon. Up to 39,000 people are granted admission per day. Tens of thousands of visitors have toured the Blue House since.
10. North Korean fishermen refoulement, Yellow Sea murder cases reopened
Two separate cases of Koreans crossing the inter-Korean border during the former administration were reopened this year.
Two North Korean fishermen captured by the South Korean Navy after crossing the inter-Korean maritime border on Nov. 2, 2019, were returned via Panmunjom five days later.
The Moon Jae-in administration said the pair was not entitled to South Korean protection because they did not express a desire to defect and had murdered 16 fellow crew members aboard their fishing vessel before crossing south.
Photos of the two fishermen resisting their return to the North at the truce village of Panmunjom on the inter-Korean border in November 2019 were released by the Unification Ministry in July, sparking outrage from North Korean human rights and defectors' groups. International organizations such as Amnesty International said the fishermen were denied the right to a fair trial and that their deportation violated the principle of non-refoulment.
Since then, the prosecution has been investigating high-ranking officials of the Moon government for their roles in the decision.
The Yoon government also reopened the investigation into the death of a South Korean fisheries official killed by North Koreans in 2020. On Sept. 22, 2020, North Korean soldiers fatally shot official Lee Dae-jun and burned his corpse.
The previous day, he disappeared while on duty south of Yeonpyeong Island near the Northern Limit Line, the de facto inter-Korean maritime border, in the Yellow Sea.
South Korean military officials claimed that Lee was trying to escape gambling debts but the Yoon administration's Ministry of National Defense and the Coast Guard have admitted there was no evidence to support that idea.
Former NIS chief Suh Hoon was indicted in December for abuse of power and fabricating evidence about Lee's death.
BY LEE HO-JEONG, SARAH KIM, LEE SUNG-EUN, ESTHER CHUNG AND MICHAEL LEE [lee.hojenog@joongang.co.kr]