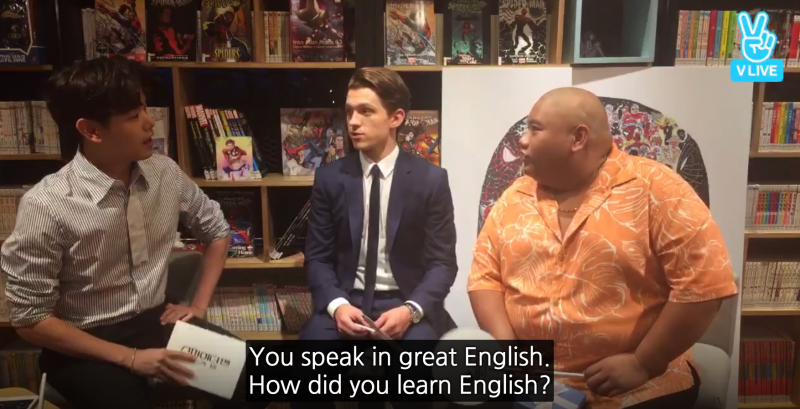 The young Spider Man star is currently in hot water in Korea after an interview in the country that was live streamed online.
On July 2, two Hollywood actors Tom Holland and Jacob Batalon had an interview with Korean online broadcasting platform V Live, promoting recently released Spider Man: Homecoming.
In the interview conducted by Eric Nam, a Korean-American singer-songwriter who was born and raised in the U.S., the two stars shared thoughts about various topics regarding the film, as well as Korea.
In the middle of the interview, the bilingual interviewer briefly explained in Korean what was going on to help local audiences understand the context better. Tom Holland, who was quietly gazing at the interviewer while he was speaking in Korean, asked him, "You speak great English, though, man. How did you learn English?"
To Nam's reply, "I'm American, so there you go. Surprise!" Holland gave a big nod, while the costar Jacob Batalon asked Nam where he learned Korean then jokingly added, "Oh, shoot. That was not what I meant to say."
"It's live, so we can't fix that, can we?" added Batalon with an apology.
톰 홀랜드 논란되는 부분 영상(부분)임 pic.twitter.com/yVgFYrYbcl

— ✿잉티✿ (@Hoichya) July 14, 2017
As the interviewer belatedly brought racist controversies, there is a huge debated going on in Korea, fighting whether the actor's comment is racist or not.
"His question was not aggressive at all," says a Twitter user. "But it was asked with an assumption that Asians don't speak English, which is rather naïve."
Another user on Twitter emphasizes that the question itself is a great example of white supremacy. "It is his racial power as a white man to ask such question just because he was 'surprised to find an Asian man speaking English so well.' It's a weird reality that Eric Nam and Jacob Batalon, who must have encountered such racism innumerably throughout their lives, try to move on with jokes while the main actor doesn't seem to understand what's going on."
Some, on the other hand, argue that the actor was simply amazed and respectful of the interviewer because he had to endeavor getting accustomed to American accent as a British actor.
By Heewon Kim