'Train to Busan' actor Gong Yoo opens up on fatherhood and zombies.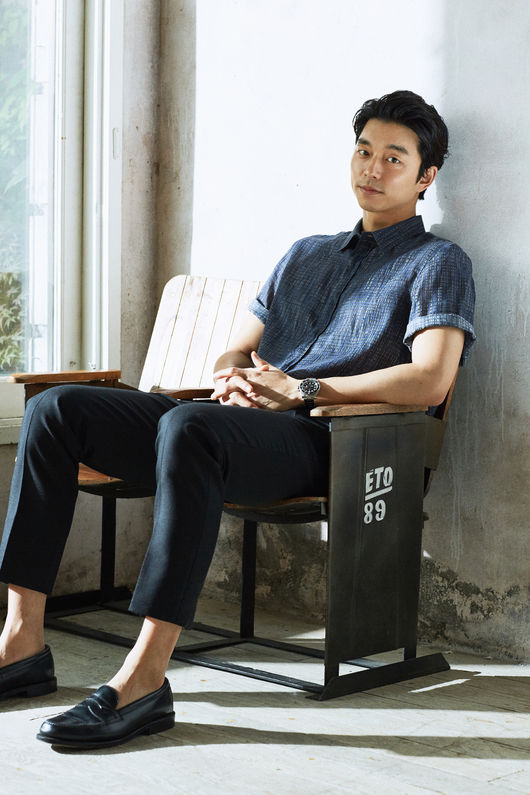 Actor Gong Yoo has proved in his latest zombie film, "Train to Busan," that even an unmarried man can act like a real father.
Although the actor is single with no children in real life, he was able to show his audience how desperate a father can be to protect his daughter from a bunch of hungry zombies.
Before the release, many doubted whether the actor would be able to engage viewers in his acting as a father, and also how successful the first big-budget zombie movie could be in Korea since the celebrity is usually known for romance projects.
Despite concerns, however, the movie attracted some 1.43 million moviegoers on the first day of its release on July 20.
To talk about the flick and how he felt about the movie, Gong Yoo sat down for an interview with Ilgan Sports, an affiliate of Korea JoongAng Daily.
The following are edited excerpts from the interview.
Q. How was the atmosphere of the studio?
A. Although the content of the movie can be a little dark, the studio on the other hand was very bright. I was able to get along well with co-actors and the production crew. However, I was a little concerned whether it was OK to shoot a somewhat heavy movie in such a bright atmosphere. Although I had some doubts at the beginning, I realized that I could fully trust the director once I saw the scenes he edited.
There are several scenes where you run while holding your fictional daughter Su-an.
Even though she is an elementary student, it was not easy to run while holding her, especially in the narrow train aisle. I was also concerned that she may get hurt, so I had to continuously be careful in order not to fall over, especially forward.
You and Su-an seem to look alike.
I heard that a lot. I think we have become more similar through the film. Su-an's role was originally designed for a boy character. However, since she was able to nab the role, I definitely believe that she has something that makes people become drawn to her. Also, she made a lot of people laugh at the studio. Some even said that they were able to continue thanks to her.
"Train to Busan" is filmmaker Yeon Sang-ho's first live-action film. Did you like his directing style?
Although he may have personally worried about the film, he never let the actors know that. It seemed like that he had a clear direction of how he wanted to make it. He also showed confidence to encourage the actors. As an actor, I felt less concerned thanks to his confidence and strong leadership.
How was filming a movie with those people with zombie make-up on?
I'm usually faint-hearted, so even though I knew that those zombies put special make-up on, I was still scared. When they became too involved in acting, they sometimes continued running even when the director shouted 'cut.' So I was sometimes caught by the zombies, and was surprised every time.
I was very impressed with those actors featured as zombies. They put on so much make-up that they were not easily recognized even by those who knew them, and more importantly, they did their best to act their roles. I realized once again that the weight of one's role in a movie is not important.
Did you have any concerns about shooting a zombie film?
It would be a lie if I didn't worry at all. I asked the director how he is planning to portray zombies, and also about the parts using computer graphics. Although I felt anxious, I quickly made up my mind to take the role because I was very attracted to the story. It seemed meaningful enough for me to star in one of the first big-budget Korean zombie films.
How did you feel about acting as a father despite being unmarried in real life?
I neither felt pressure nor worried. Actually, I should have at least two children by now, considering my age (laughs). In fact, I see many people my age with children in elementary school. I don't think actors should be concerned about the image they would get after taking on a role.
Do you have any plans for marriage?
I will someday have to get married and become a father. But the older I get, the more I become scared of marriage and having children. When I see people who got married, I realize how difficult it is to marry someone and to have a family, and also how mature they become through that experience.
Are you preparing for any new projects?
I have high expectations for "The Age of Shadows," [which is scheduled for release in September]. I wonder how the audience would react to the flick.
BY KIM YEON-JI [jin.minji@joongang.co.kr]