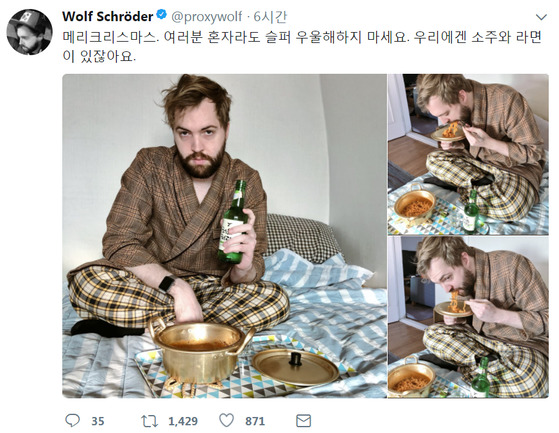 "Merry Christmas! Even if you're alone, don't be sad. Because we had Soju and Ramen."
Wolf Schröder, who refers himself as a "Korean American Guy" in spite of zero percent of Korean blood in him, said through Twitter to give a tip on how to spend the holiday alone. In the pictures uploaded with the message, he is eating ramen in a pajama, holding a bottle of Soju in one hand.
The eSports Broadcaster living in Korea, Wolf Schröder is already widely known among social media users in Korea, especially for his love for Korean cuisine.
Including his favorite Korean dish Budaejjigae (which he even gave a hypocorism "Bujji"), Wolf enjoys all kind of Korean food ranging from the beef intestine to sundae. When he has to travel abroad, Wolf brings several packs of ramen with him.
Here are some of his Tweets show how much he loves Korean cuisine.
1.
— Wolf Schröder (@proxywolf) August 26, 2017
2.
이걸 먹어야 고향 온 것 같지 pic.twitter.com/hJG7SKPpoi

— Wolf Schröder (@proxywolf) July 21, 2017
"Eating this makes you feel at home."
3.
부대찌개집에 브레이크타임이 도대체 왜 필요한거야…. pic.twitter.com/513xLWtQAX

— Wolf Schröder (@proxywolf) December 17, 2017
"Why does a Budaejjigae restaurant need a break time…"
4.
오늘은 미국에서 칠면조 먹는 추수감사절이다. 친구들이 저녁식사 초대했는데 음식은 나한테 잘 안맞지만 미법의 가루를 챙겨왔다. 엄마의 손 맛! pic.twitter.com/QVU96AuBe9

— Wolf Schröder (@proxywolf) November 24, 2017
"Today is Thanksgiving when people eat turkey in the US. Friends invited me for dinner but the food here isn't really my taste. However, I brought this magical powder!"
Last year on New Year's day, Wolf cooked Tteokguk himself to celebrate the day with a traditional Korean dish eaten during the celebration of the Korean New Year. We wonder how he will spend the holiday this year!
Original article
Translated and edited by Heewon Kim