Regardless of your tolerance for spicy food, you probably have heard of the notorious South Korean "Fire Noodle" by now. Originally named Buldak Bokkeum Myeon, which roughly translates to "fire chicken noodles," the spicy instant noodle spread widely through the viral "Fire Noodle Challenge."
The act of eating Fire Noodle has now become a cult. Every time Samyang Foods, the maker of Fire Noodle, release a new flavor, the product instantly sold out and YouTube flourishes with another series of Fire Noodle Challenges.
In order to satisfy the on-going high demands, Samyang Foods continues to launch new flavors and products that use their signature spicy sauce (sometimes, however, their effort goes beyond the limit to make Fire Noodle makeup products). If you wonder what kinds of flavors and variations of Fire Noodle are out on the market, here is the complete list.
1. Fire Noodles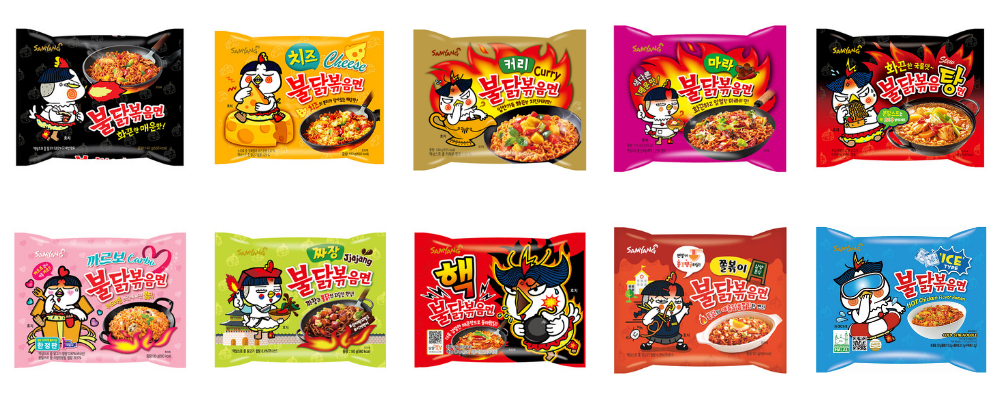 There is a total of 10 flavors of Fire Noodles, including now discontinued "Ice" one. Some flavors, including Cheese, Tang (with broth), and Carbonara, come with an extra packet of power sauce for each.
For those with lower tolerance to spiciness, Cheese, Jjajang, and Carbonara will be easier choices. On the other hand, the "Nuclear" flavor, which claims to be twice as spicy as the original Fire Noodle, will be a challenge to everyone.
"Jjolbokki" is the latest release from the line. It mimics the taste of Tteokbokki, one of the most beloved snack food in Korea.
2. Nibbles
An array of simple snacks is released to let people enjoy Fire Noodle more easily. These snacks are great companions for beer.
1. "Crushable" noodle snack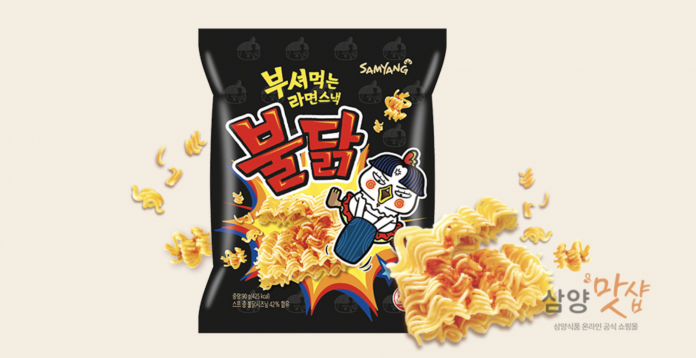 This snack looks just like the original Fire Noodle, but it's actually designed to be enjoyed without cooking with fire. Instead of the liquid sauce, the snack comes with a packet of sauce powder that tastes like Fire Noodle.
2. Almonds
Fire Noodle Almonds is another product that's not available anymore. Each almond is coated with the signature spicy sauce.
3. Squid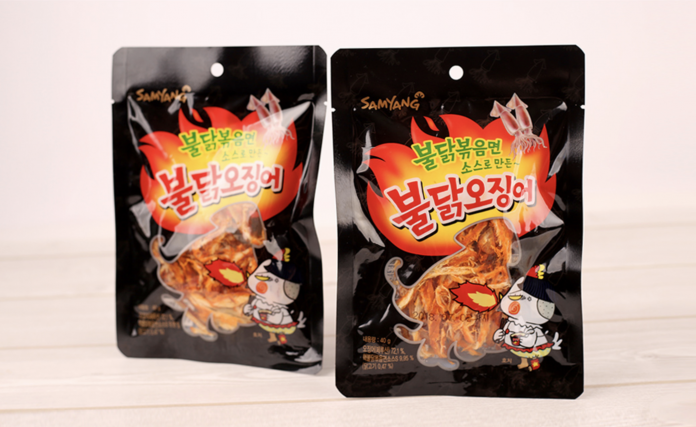 The snackable squid is one of favorite beer-friendly snack Koreans enjoy. The added spiciness of Fire Noodle would call for an indefinite amount of beer.
3. Frozen Food
As people tried to come up with more complicated recipes using Fire Noodle sauce, the manufacturer helped people enjoy more various dishes by launching frozen products.
1. Tteokbokki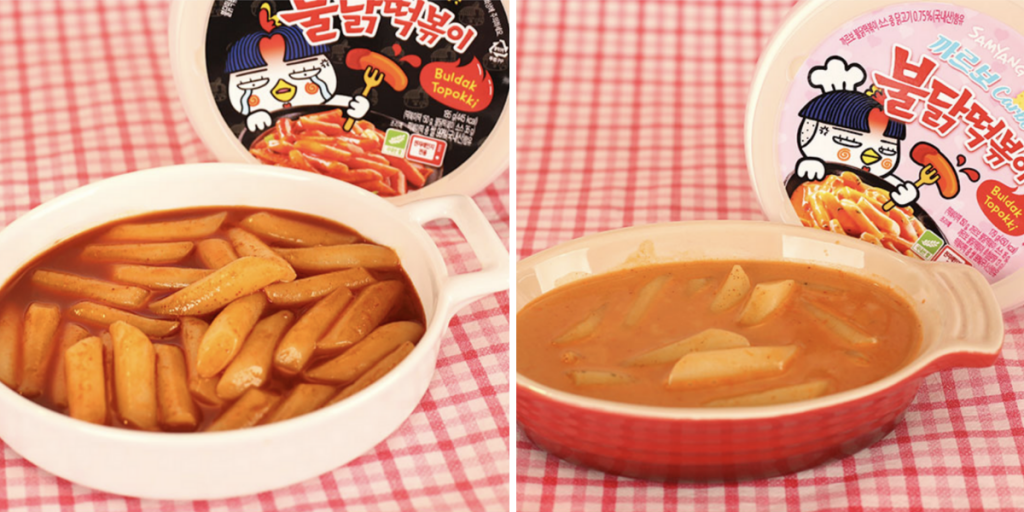 Tteokbokki is one of the first dishes people cooked using the Fire Noodle sauce. So when Samyang Foods actually released it as a product, people instantly ran to the stores. Tteokbokki is available in two most popular flavors – Original and Carbonara.
2. Dumplings
Fire Noodle Dumplings are much similar to Koreans' favorite Kimchi dumplings – only twice as spicy as kimchi dumplings!
3. Sausage
It's like dipping a sausage into a bowl of Fire Noodle sauce. It has limitedly been released and now it's unavailable.
4. Sauce
To the high demand, Samyang release their signature sauce in a form of a table sauce. The product is one of the most popular item at Incheon Airport stores. You can utilize the sauce in every imaginable way, adding an extra bit of spiciness to your favorite dishes.
5. Makeup Products
Fire Noodle's collaboration with a cosmetic brand was quite a shock to many. Of course, people joke about how they don't need to apply lip colors after eating Fire Noodle, because lips are reddened and plumped due to spiciness. But I doubt that people actually wanted a Fire Noodle makeup product.
Regardless, reviews weren't all bad. Fire Noodle maniacs loved them, especially the lip tint for reenacting the post Fire Noodle lips. In addition to lip colors, blushers, hair color treatment, and cushion foundation were available for a limited time.
By Heewon Kim