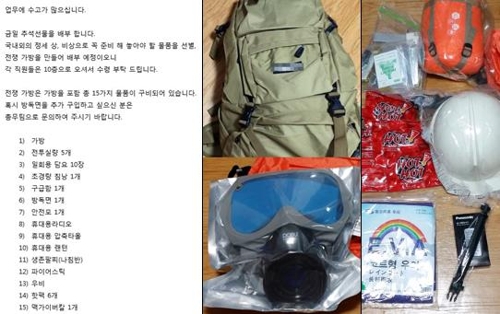 As the tension in Korean peninsular is increasing due to North Korea's repeated missile tests, the number of people preparing survival gears is also increasing.
According to a marine transportation business based in Gangnam, its employees received survival kits for their Chuseok (Thanksgiving celebrated based on lunar calendar) present.
"We've selected the most-needed emergency gears, which are necessary for current national/international political state," writes the company's general affairs department.
Employees received a backpack packed with gears including field ration, blanket, emergency kit, sleeping bag, gas mask, safety helmet, portable radio, lantern, compass, fire stick, raincoat, and a portable heater.
"I found it absurd first, but as I recently started to worry about the national security, I now think that being prepared with a survival kit won't be a harm," said one of the employees.
As the security state of Korean peninsular is growing unstable, more and more people are seeking to prepare themselves with such survival gears. After North Korea's sixth nuclear test on September 3, especially, many were found searching the kits on the Internet.
An apartment complex in Gangnam even held an information seminar to prepare its residents for an unexpected incident.
The apartment gave information on how to react to an air-raid alarm or an NBC warning and advised the residents to be prepared with basic survival gears.
Original article by Lee Hyo-seok