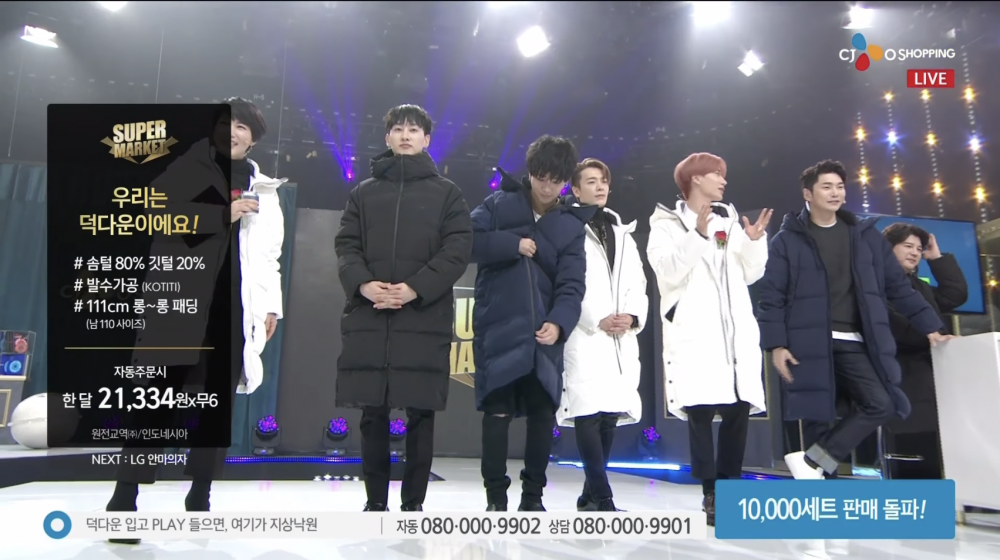 K-pop boy group Super Junior made a successful debut on home shopping, selling over 2 billion in KRW.
On November 20, six of the group members made appearances on one of the top home shopping stations, CJ O Shopping, increasing the viewer ratings six times more than usual.
Leeteuk led the show as the main host, while rest of the members communicated with the viewers by answering real-time questions, while also modeling for the product themselves. Men's black padding coats, which member Shindong demonstrated perfectly, sold out in half an hour.
Previously, the group jokingly said that they would sell black suits if their new album sales surpassed 200,000, taking the item from the title of their title song, "Black Suit."
As the album sales went over the said 200,000, Super Junior kept their words and hosted the show. Even though the item was winter coats instead of the promised black suits, the group sold 19 thousand units of the item for the 50 minutes of the show.
Watch the full show below! (Watch from 18:03 for Shindong's hilarious 4-way split shot)
By Heewon Kim