Apink is a popular K­pop girl group formed by A Cube Entertainment in 2011. They are not only popular in South Korea, as indicated by being chosen for Best Female Performance of Korea Golden Disk Award in 2015, but also popular in Japan, as indicated by being chosen for Best New Three Artists in Asia of 29th Japan Gold Disk Award. Their first North American tour, "Pink Memory," is scheduled in January of 2016 at four places in North America: the Orpheum of Vancouver, Canada in January 5th, Verizon Theatre of Dallas in January 6th, Regency Center of SF in January 8th, and Club Nokia of LA in January 9th. The tickets have already been on sale since November 28 at 12 p.m. local time of the show's city through KPOPME.
2016 INFINITE World Tour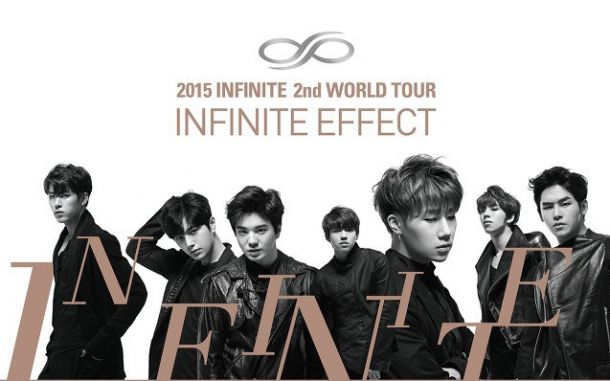 On the other hand, Infinite is a popular K­pop boy band formed by Woollim Entertainment in 2010. Infinite's most recent song, "Bad," has been nominated for Best Music Video by Mnet Asian Music Award in 2015. After their successful first American tour, "One Great Step," in 2013, now Infinite is going to start a world tour! Their world tour, "Infinite Effect," is scheduled in January of 2016 at several locations in the world: Queen Elizabeth Theatre of Vancouver , Canada in January 7th, Microsoft Theatre of LA in January 10th, Auditorio Blackberry of Mexico City, Mexico in January 13th, Teatro Caupolican of Santiago, Chile in January 16th, Playstation Theatre of NY in January 19th, and Asia World­Expo Hall 8&10 of Hong Kong in January 31st. The ticket purchase is already available via the official websites of each theatre.
DJ DOC & JINUSEAN Concert

In January of 2016, we will see not only young popular K­pop bands, but also K­hiphop legends too! One of the K­pop's 90's legends, DJ Doc and Jinusean, are teaming up to perform in California! DJ Doc and Jinusean are K­hiphop bands who are one of the pioneers in the hiphop industry of South Korea. Their exclusive concert is scheduled at Fantasy Springs Resort Casino in January 23rd. The tickets are available through "Hot Deal", the online shopping website provide by The Korea Daily.
By Issei Matsura
-> Direct link to Ticket Purchase :http://hotdeal.koreadaily.com/product/jpoint_product_detail.asp?cat_no=16&prd_idx=1918