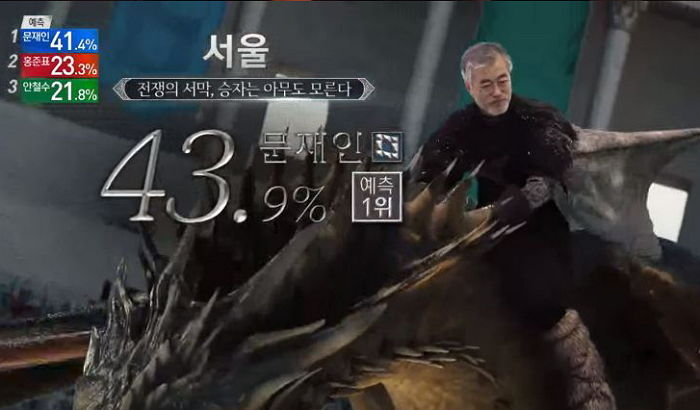 To entertain viewers who watch hours of vote counting, one of the major TV networks systems in South Korea chose to add some fun with graphic animations. On the Election Day, Seoul Broadcasting System (SBS) organized their hours-long vote counting program with a series of graphic animations, even including a Game of Thrones parody.
In the show, head-shots of five forerunning presidential candidates are composited with Game of Thrones characters. The leading candidate Moon Jae-in flies on a dragon while other candidates are sword-fighting in the arena.
https://www.youtube.com/watch?v=2E_fNQ0wSwU&t=140s
In other animations, candidates turn into plush dolls in a claw crane, marathoners, and boxers. The parodies even included Pokemon Go, in which candidates turn into characters being caught by Pokeballs.
https://www.youtube.com/watch?v=g3eFMuXGrmY
Meanwhile, the 19th presidential election of South Korea has been won by the Democratic Party's candidate Moon Jae-in. The former human rights lawyer thanked supporters, saying that he would be a "president for the people."
By Heewon Kim