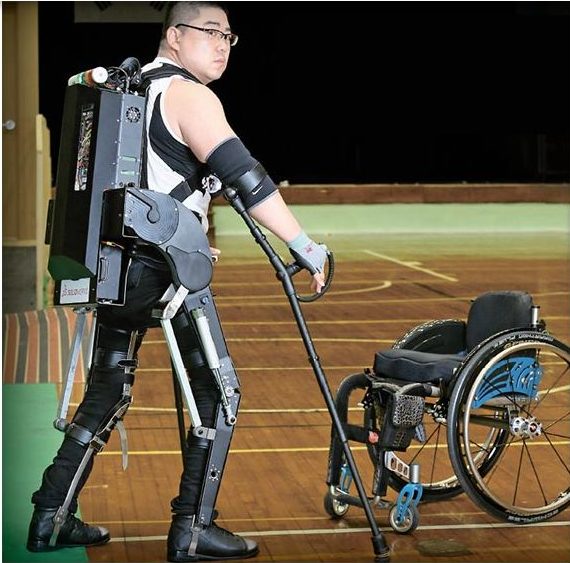 Byeongwook Kim, who hasn't been able to walk since a tragic hit and run accident in 1997, walked his first step in about twenty years. "It's a dream for everyone with spinal cord injuries to be able to walk again," said Kim on his wearable robot legs." I'm so glad to be able to stand straight and realize that dream."
Walk-On Suit, developed by SG Mechatronics, is a wearable robot particularly designed for persons with complete paraplegia. On the day of his training, Byeongwook Kim wore this robot suit and pressed a button on the monitor to stand up. With crutches specially designed for the robot he could balance himself. For about ten minutes, Kim stood up, walked, and crossed a bridge. For the ten minutes, he was free of disability he had suffered for the past twenty years.
"At first, I was scared to get on the robot and rely myself on it," said Kim. "I lost senses in my entire lower body and it felt like I'm floating in the air on the robot legs. But after two or three weeks of training, I gained hope to be able to walk again." Kim had to get trained for six months to be able to walk in front of everyone.
SG Mechatronics' Walk-On Suit is specially redesigned for the upcoming Cybathlon. Cybathlon, comprised of six disciplines – Brain-Computer Interface Race, Functional Electrical Stimulation Bike Race, Powered Arm Prosthesis Race, Powered Leg Prosthesis Race, Powered Exoskeleton Race, and Powered Wheelchair Race – will be held on October 8 with an aim to provide a platform for the development of robotic assistive technologies.
There are still steps to be accomplished to commercialize physical assistive robots. In case of Walk-On, these 44 lbs legs have to be lightened to be utilized and its safety, too, needs to be approved further.
"Training with assistive robots not only gives more mobility to a patient, but it also strengthens bones and joints and improves heart, lung, and kidney functions," said clinical supervisor Dong-wook Rha, who also is an associate professor of Yonsei University. "But even with developed technology, government aid is necessary to make it accessible to the patients."
Original article written by Young-ji Seo
Translated by Heewon Kim