Celebrating South Korean president Moon Jae-in's first hundred days in office, various events were held in the country on August 17.
In the morning of the 17th, the national postal service of South Korea issued commemorative stamps to celebrate the inauguration of the 19th president of the nation.
The printed five million stamps, five hundred thousand small-size stamp sheets, and twenty thousand stamp albums quickly went sold out, and some of the supporters even camped out to secure enough supplies.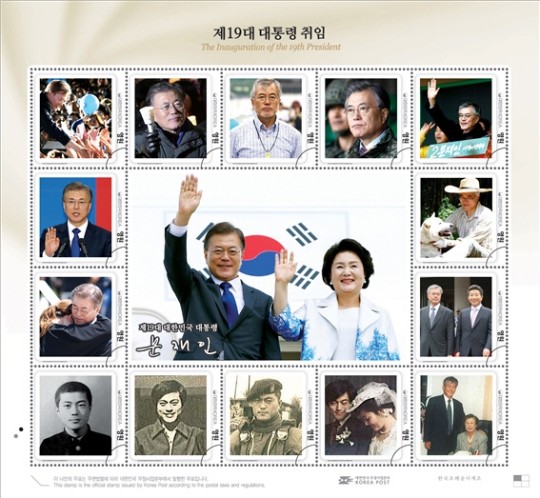 In the afternoon, the Blue House held an open house event. Moon hosted the tour himself, introducing the Main Office Hall and the Secretariat Buildings to about 300 members of the media who have access to the Blue House.
People celebrated Moon's 100th day of the presidency on social media as well. On Twitter and Instagram, people posted messages with a hashtag reading, #ThankYou_MoonJaeIn, expressing gratitude to the president. The hashtag was ranked as the most trending topic on Twitter Korea.
The president replied to the supporters by sending a "selfie video message" through his social media account.
"#ThankYou_MoonJaeIn is the best present I've received today," said Moon through the video. "I could manage the first 100 days well, thanks to our citizens. I will walk along with everyone for the remaining days as well."
The Blue House also released an interview with Moon as a video. In the video titled, "Small Interview," President Moon answered less formal questions like "How many hours do you sleep?" or "What do you do after office hours?"
The president also mentioned the political tension with North Korea at the news conference held at the Blue House presidential resident on August 17, as the country is facing a series of threats from the North.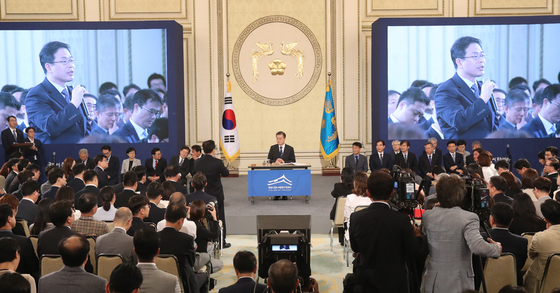 "There will be no war on the Korean Peninsula ever again," Moon said with confidence.
"South Korea is the only country that can make decisions on military actions on the Korean peninsula. The United States and President Trump, too, agreed to go through enough conversation with South Korea, whatever action the U.S. takes against North Korea." Moon added. "So I want our citizens to feel safe and trust that there will not be a war."
The 19th president of South Korea, Moon Jae-in impressed the nation with an 84 percent approval rating, the highest of any Korean president in his or her first month in office. On the 100th day of his presidency, Moon Jae-in is maintaining a high approval rating at 78 percent.
By Heewon Kim