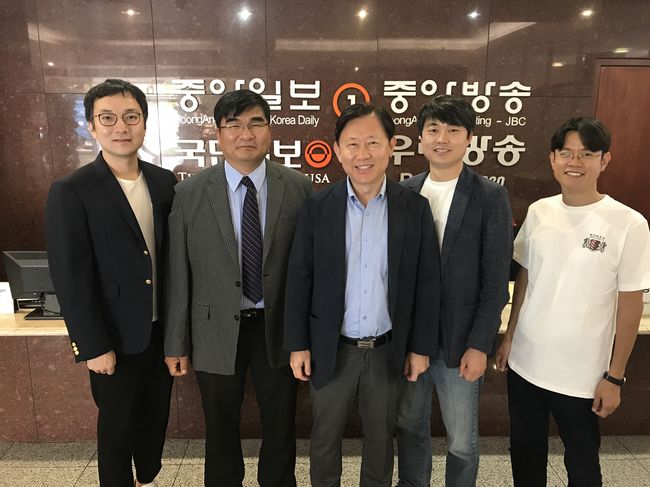 "I knew that there would be an opportunity as soon as I realized that the process of roasting coffee beans does not involve a scientific approach. We've now commercialized a smart device that can roast the beans better than experts who've done it for years."
That is how Jong-wook Woo, one of the presenters at the Global Roadshow event hosted in Southern California by KU Holdings, began the project to take a scientific approach in creating a coffee maker, which eventually founded Stronghold Technology. Woo visited Southern California recently.
He has always been a believer that computers are capable of doing what human can. He realized that the coffee market, which has long been seen as something only human can operate, can also be computerized. That is also why he jumped into the business. His product does not just roast coffee beans. From temperature to humidity to weather to even the duration of roasting, the device simply takes into account all external factors to make the best coffee. Woo utilized artificial intelligence, IOT, algorithms, and big data to create a device that is unique.
Woo has always dreamed of one day starting his own business. He was a sociology major in school, but he teamed up with four people to start his business in Korea. It then led to expansion to China, and now the United States.
"Coffee beans vary in condition so this was a really difficult area to apply my business concepts, but now, our machine roasts beans better than any expert."
His product is more suitable to businesses in need of roasting about twice a week rather than a place that needs to order a large volume of beans at once.
Meanwhile, Rak-ju Do, the CEO of TLabs also possesses the technology to create 3D maps after 20 years of research. When applied to virtual reality, it can even maneuver and search for items freely. "I have a lot of contents related to the 3D map and I plan to raise the awareness on them by entering the U.S. market," Do said.
The person helping them to develop a U.S. market is Yong-ha Kim, the chairman of Korea University alums in Southern California.
"I prepared for this event after reviewing ways to support them since April," Kim said. "Our reunion group of 12 advisors will be helping them."
Seung-pyo Hong, an engineer who also contributed to holding the event, said: "We've seen a great result after establishing this group to contribute to the society by helping students to launch businesses and make profits. The technological skills our partnering companies and investors possess are directly comparable to world class IT firms. The goal for us now is to create a gateway for them to enter the U.S. market."
"Stronghold has already been a success and the stocks it held have already turned into cash," Hong said. "Our network is expected to help them alleviate the issues it may face in the future."
Korea University founded KU Holdings in 2009 with the mission of growing South Korea's engineering industry. It now has 32 affiliated companies. The annual road show events have been held since 2015 in the U.S. and China.
Stronghold CEO Woo and TLabs CEO Do attended this year's event in addition to Crimson Store, known for its pads and face masks for those with skin irritations, as well as The Loop, a manufacturer of private blockchain network.
▶Inquiry: (213)760-9066
By Byung Chang