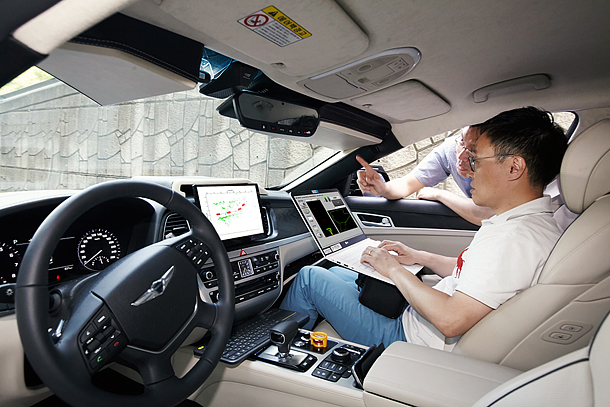 SK Telecom will be the nation's first mobile carrier to test a driverless car on public roads.
According to the company on Wednesday, it obtained approval to test a driverless car equipped with its so-called vehicle-to-everything (V2X) technology from the Ministry of Land, Infrastructure and Transport. The V2X technology is supposed to allow cars to communicate with sensors, cameras, traffic systems and other cars via fast internet networks such as the upcoming 5G networks.
"We are not a complete auto maker," a spokesperson from SK Telecom said. "But we are utilizing 5G networks to enable various internet-connected services on cars and to enhance the safety of autonomous driving as the internet can help cars better monitor and respond to traffic situations."
SK Telecom remodeled a Hyundai Motor Genesis brand G80 sedan and collaborated with graphic card maker Nvidia and a research team from Seoul National University to enter into the driverless car market.
Now that it has approval for test-drives, it can accelerate development of key technologies for self-driving such as artificial intelligence software, 3-D high-definition mapping and other sensor technologies, the Korean telecom giant said in a statement.
According to the carrier, its 3-D mapping technology is capable of capturing traffic lights and signs on roads. Since SK already operates a navigation app "T Map," the carrier plans to make maps more precise so driverless cars can better recognize road conditions.
With 5G networks, the V2X technology will allow cars to respond to incoming information in less than 0.001 seconds, the company said, far faster than the current 4G or LTE networks. Cars will be able to talk to each other to prevent potential accidents or avoid heavy traffic.
SK Telecom will first test its car on a track on Seoul National University's Gwanak Campus in southern Seoul and then put it on ordinary roads starting this month.
Major IT and electronics giants in the country have announced their ambitions in the autonomous car market.
Naver was the first IT company to obtain approval for road tests in February. By having off part of its research and development team, the search engine provider established Naver Labs in January, which is dedicated to developing future technologies such as AI and driverless cars.
Samsung Electronics, which acquired U.S. automotive electronics firm Harman International Industries last year, also earned approval for test drives in May.
With the expertise of Harman, which is strong in telematics and infotainment systems, the Korean electronics giant is expected to drive the development of sensors and computer modules for self-driving as well as parts related to AI and deep learning technology.
Earlier in the month, rival LG Electronics also earned test approval by remodeling another Genesis G80. According to the company, it aims to strengthen collaboration between LG affiliates including LG Display, camera module maker LG Innotek and battery maker LG Chem to get into the automotive electronics business.
LG established a research lab dedicated to autonomous driving last year.
"It's true Korea lags behind developed countries in autonomous car technologies, but we are supporting companies in diverse ways so they can quickly catch up and become leaders in the future," an official at the Transport Ministry said.
BY KIM JEE-HEE [kim.jeehee@joongang.co.kr]
From Joongang Daily.