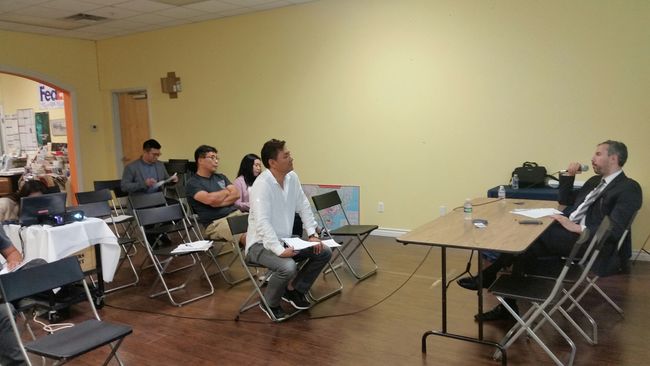 It is not just the minimum wage rise that changes starting July 1. For businesses with 26 employees or more, the hourly wage will rise to at least $12, while for those with 25 employees or less, the number of paid sick days is increasing to six (48 hours).
To alleviate the misunderstanding, Korean American Manufacturers Association (KAMA) held a seminar Monday for its affiliated business owners. In addition, KAMA provided more information on the recent Chapter 11 bankruptcy protection by Papaya Clothing.
▶Paid sick days in city of L.A.
The six sick day leave policy has already been implemented from July of last year to businesses with 26 employees or more.
Now, even businesses with 25 employees or less will have to abide by the same policy. However, businesses that are already offering at least six sick day leaves are exempt. Anyhow, the latest change means that the allowed sick days will double from the previous three days (24 hours). Damon Brown, the attorney for Lewis Brisbois law firm affiliated with KAMA, detailed the effects of the law change.
In California, employers are not allowed to request a written document, such as a doctor's note, to excuse an employee who is requesting a sick day. However, in the city of L.A. in particular, an employer can request such documents. Also, when an employee misses a workday citing health reasons, employers in L.A. can request a document even though the law across California is that companies can only request such documents when the employee misses three or more days.
Also, employers in L.A. County can also request an explanation when an employee uses a sick day and has been suspected of going on vacation. In that case, the affected employee can face reduction in wages.
Obviously, an employer cannot refuse to grant a sick day after an employee makes a request as a follow-up to a rejected proposal for vacation. However, if an employer learns that an employee has abused its right to sick day leaves, the fine in L.A. could be as costly as $120 a day.
▶Bankruptcy law
The latest bankruptcy of Papaya Clothing has reportedly affected around 200 Korean-American businesses. Some businesses have lost more than $2.5 million as the combined loss is believed to be up to $15 million.
Law firm ASK LLP's Edward E Neiger explained how creditors could react to the latest bankruptcies of clothing businesses, including Limited and American Apparel.
The attention at the seminar primarily centered on the possibility that businesses that have suffered losses due to Papaya's bankruptcy could be considered for compensation when and if approved as a "critical vendor." To be eligible for critical vendor status, a business cannot be affiliated with creditors committee and needs to earn an approval from the court.
Once the Chapter 11 bankruptcy has been applied for, a debtor could request for a retrieval of payments that have been paid to the vendor within 90 days. No forms of payments are exempt outside of Cash in Advance (CIA) or Cash on Delivery (COD). To proceed with the partnership with the bankrupt business, transactions must be made through CIA or COD.