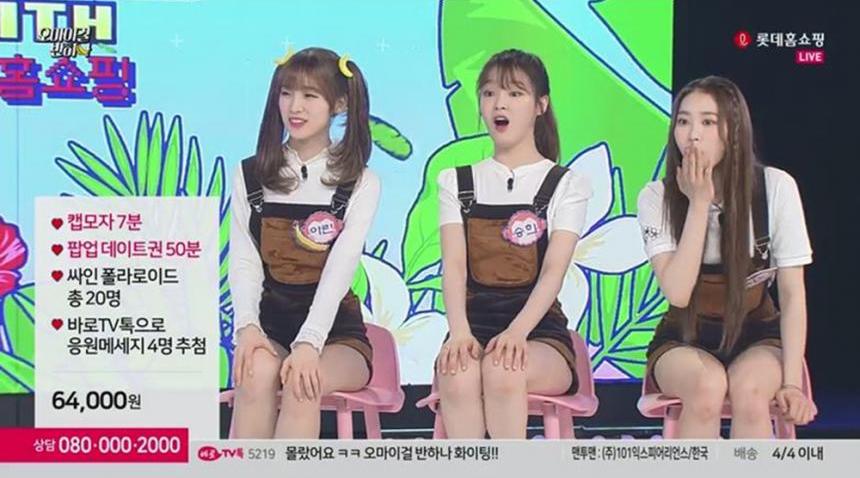 On April 3, K-pop girl group Oh My Girl's unit group Oh My Girl Banhana made a debut through a showcase performance. Interestingly, the group chose TV home shopping show as the very first medium to showcase their new release. In the show presented by Lotte Home Shopping, the group did not only performed their new song but also sold packaged deal comprising their new album and fan merchandises. The group's "home shopping showcase" became a great example which shows how TV home shopping and entertainment industries are constructing a symbiotic relationship in South Korea.
Setting aside Oh My Girl Banhana being the first K-pop group to make a showcase debut through TV home shopping, K-pop has recently been penetrating into the home shopping industry. Various artists make appearances in home shopping shows, sometimes to showcase their new song and other times just to promote certain products.
The history of "Shoppertainment," which is the term used in Korea to refer to the combination of TV home shopping and entertainment, traces back to UV's album sales in 2010. Even though the sales results of the band, comprised of comedian Yoo Se-yoon and musician Muzie, were not commercially successful, their early attempt hinted a possibility for the new composite.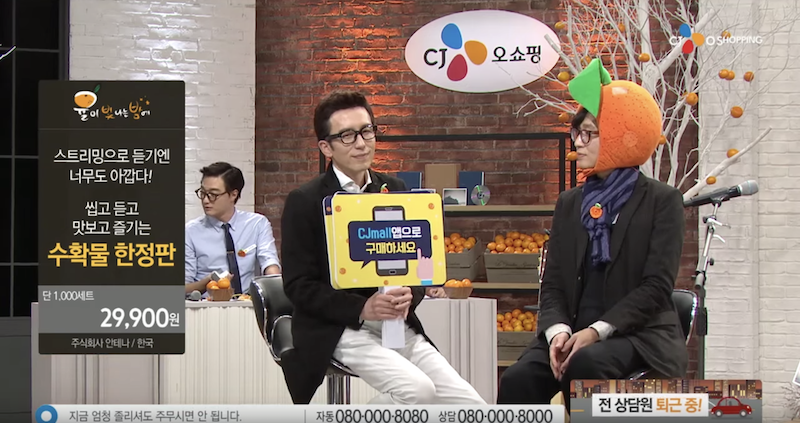 The first successful approach to Shoppertainment was made by Korean indie musician Lucid Fall. Different from UV, whose product was limited to their album, Lucid Fall prepared a packaged deal comprising his album and a box of tangerines. In Korea, TV home shopping is best known for affordable deals that come with various "bonus" products. Using this nature of home shopping, the musician came up with a package using tangerines he harvested as a part-time job. Despite it was as late as two in the morning when the show was broadcasted, 1,000 units of the product Lucid Fall prepared went sold out.
In the musicians' aspects, TV home shopping can be utilized as a great mean of promotion. Musicians can directly showcase their new songs and sell albums, as Oh My Girl Banhana and UV did, or indirectly use the channel to promote their songs.
In November 2017, globally renowned K-pop boy group Super Junior hosted a home shopping show for long padded jackets. In the show, members answered the calls and modeled the jackets, which led to the sales of 19,000 units in 50 minutes.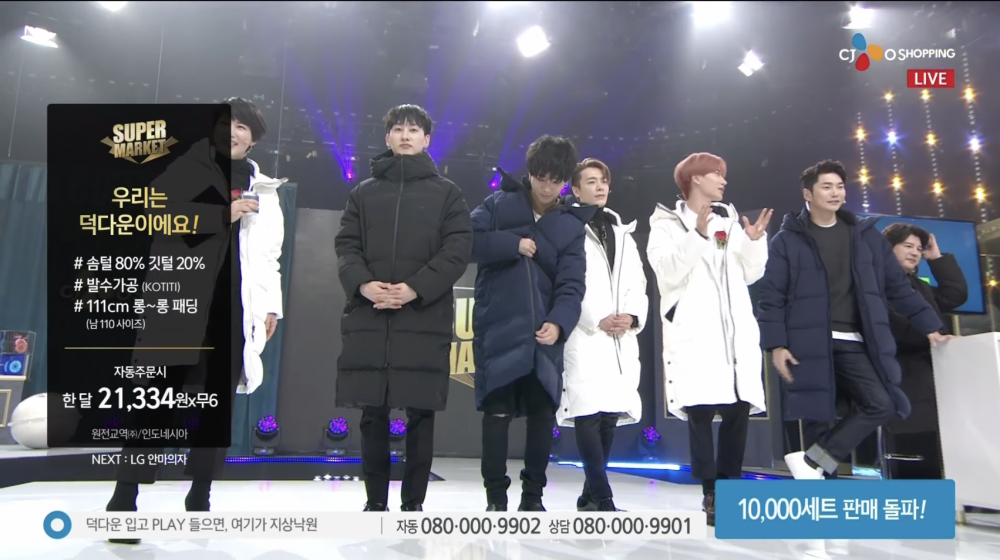 Super Junior's appearance on TV home shopping was made as a part of their playful promise, which said that they would sell suits if their new album sales surpass 200,000, taking the item from the title of their title song "Black Suit." Even though their home shopping appearance may not be directly related to the album sales, the home shopping they hosted grabbed many people's attention, further promoting their new release and making the title of the song known widely.
As more and more cases prove the possibility of Shoppertainment, Korean TV home shopping channels are growing eager to invite stars to their shows. On March 29, group iKON hosted a show to sell packaged bulgogi products produced by YG's food business label YG Foods. On April 12, Super Junior made the second appearance on a TV home shopping show, marking 900 million KRW sales of facial masks.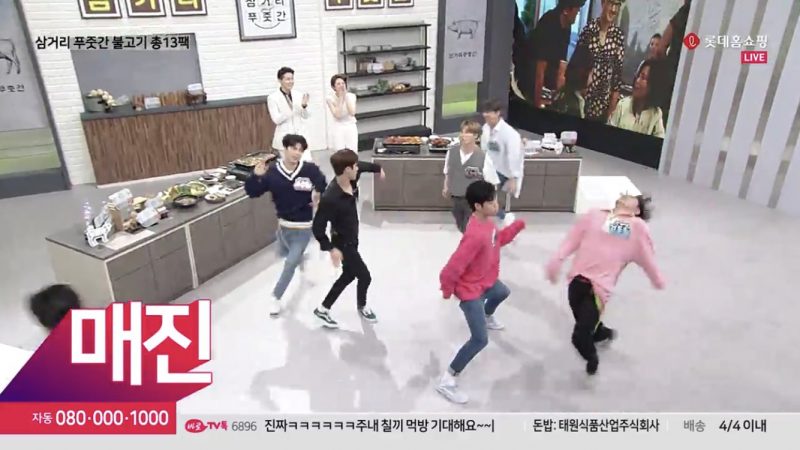 The Shoppertainment presents an interesting commercial model, where entertainment and cultural contents are directly connected to a real-time profit. As plenty as the room for the growth of Shoppertainment, consumers can expect to see how interestingly the two industries can form a symbiotic relationship.
By Heewon Kim