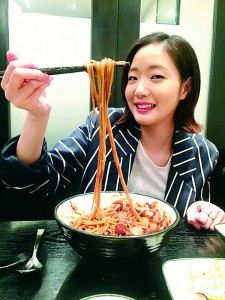 As it is getting close to Valentine's Day, we should check out how South Koreans celebrate holidays related to romantic love. Koreans have a unique system of single and couple anniversaries. These single and couple anniversaries happen on the 14th of every month!
The most popular and famous anniversaries are Black Day in April, and Yellow and Rose Day in May. While Black Day is associated with singles, Yellow and Rose Day is about singles and couples. On this day, singles and couples do different things to celebrate. Singles gather together, like they do on Black Day, and eat yellow curry. They commiserate about their lack of intimate relationships. Couples, on the other hand, usually give roses to each other to show their affection, or go to places where roses are present, such as "Everland." Everland is the largest theme park offering a special discount for admission on Yellow and Rose Day.
One nice thing about these two holidays is that, whether you are single or in a relationship, you can do something to celebrate the holidays with other likeminded people. So, you will never become alone or lonely. Koreans celebrate not only Black and Yellow and Rose days, but also other holidays related to singles and couples on the 14th of other months. You might want to check those out too, to know more about Korean romantic culture.
By Issei Matsuura