This is the latest in a series of articles on the life and times of Kim Jong-pil, a two-time prime minister, based on extensive interviews with the 89-year-old.
There were two major elections in 1992: the general election in March and presidential election in December. I tried to rally the support of our newly merged party for a victory in March and to strengthen its foundation. But it didn't take long for internal disputes to flare with members of three different factions now under the same roof.
The general election outcome was deeply disappointing for the ruling Democratic Freedom Party, which won 149 seats, a huge drop from 216.
The major opposition Peace and Democratic Party led by Kim Dae-jung won 97 seats, while the People's Party, founded and led by Hyundai Group founder Chung Ju-yung, took 31.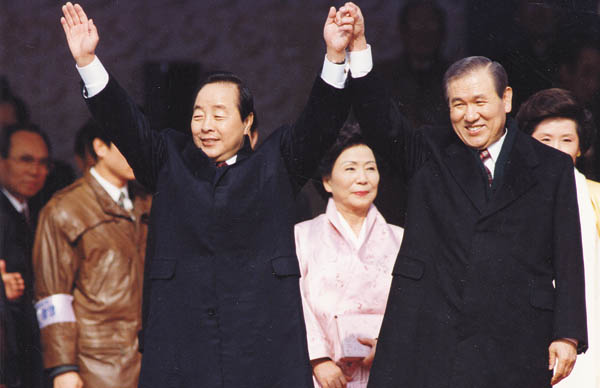 Though I was elected a seventh-term lawmaker, many of those who followed me in the now-defunct New Democratic Republican Party saw bitter defeats in their districts. I interpreted it as a sign that my supporters in the Chungcheong region were disappointed in me for not having taken a bigger role in the ruling party.
To take responsibility, I resigned from all my party positions and contemplated my next move at home in Seoul.
On March 29, party leader Kim Young-sam unexpectedly paid me a visit. Just a day before, he had held an impromptu press conference and declared his run in the party primary in the hopes of winning the presidential nomination – a move that had caught many off guard.
When I heard the news, I couldn't help but feel enraged over what he had done. He was the very person who should have taken direct responsibility for the party's defeat, but instead he had declared his bid for president in an attempt to dilute the blame. It was a daring bet that perfectly illustrated his penchant for taking risks.
I still vividly remember our talk in my living room. "Why don't you end your self-exile here and come back to handle party affairs?" he said, before asking me to endorse his presidential bid.
"How can I give you an answer right now when I'm trying to hold myself accountable for the electoral defeat?" I asked, before adding that I would consider his request.
While it wasn't the answer he sought, I had actually made up my mind to support him. After all, it seemed like the right thing to do. But the time to do so hadn't come yet.
President Roh Tae-woo was on the same page. Kim's failure to act as a responsible party leader had shaken the president's faith in him, which may have prompted Kim to argue that the party should nominate its candidate early on.
In April 1991, Kim Young-sam issued a joint statement with Kim Dae-jung renouncing the way the Roh government was handling domestic affairs and declaring their objection to a constitutional amendment to introduce a parliamentary government system. As the head of the ruling party, Kim Young-sam was openly competing with the president for more power, which left me speechless, and he consistently asked for my endorsement through various channels.
His earlier than expected presidential bid had essentially kicked off a full-on campaign.
Anxious to win my support, Kim sent his aide to my house to gain my nod. I stayed in my room on the second floor, but his point man came upstairs anyway and asked that I meet with Kim and throw my support behind him.
On April 8, I was called by Roh to the Blue House, where he asked me if I was planning to run for the presidency. I made it clear I had no intention to do so, and then he asked what I thought of Kim Young-sam's bid.
"He's suited for the job. … There's nothing we can do about his intention to run," I said, trying to sound ambiguous.
"When we merged our parties, we sort of had the understanding that he should have the next opportunity to lead, right? If you don't have an issue with Kim, I'll keep my support for him."
With a smile, Roh responded, "Well, I don't need to tell you what I want now then."
He didn't directly tell me his thoughts, but I took it as a sign of his support for Kim as well.
After our meeting, I went to the Hyatt Hotel to see Kim Young-sam.
As soon as he saw me, he asked me what Roh had said and I told him.
Then he again asked me to endorse him.
"I will give you my unconditional support to follow through on the principles of our party merger," I said, "but I want you to put an end to your resentment toward President Park Chung Hee. I will make up for the pain he inflicted upon you."
Kim was exhilarated.
The party primary for the presidential nomination was practically over now, I added, so I would be onboard with his political career.
Then I asked him to build a memorial hall for Park Chung Hee when he became president.
Kim gladly accepted my request and asked me how I wanted to have the promise stipulated on an official document. "It is a deep sense of trust required of political promise, not an official document," I told him.
Park Tae-joon, who was also running for the presidency on the ruling party ticket, was operating under the false perception that President Roh was still endorsing him.
He rebuked me when I told him Roh was pushing for Kim, but he had no choice but to give up his bid less than a month before the party convention on May 19, 1992.
Ruling party lawmaker Lee Jong-chan also asked for my support and I told him he should be rational in making his calculation – it was a disguised rejection.
The situation was tilting toward Kim's advantage, and I was named honorary chairman of the committee supporting Kim Young-sam's candidacy.
But the lead-up to the December election was not without obstacles. Kim's rift with President Roh emerged after he harshly criticized the government's approval of a company run by one of Roh's in-laws to become a mobile communications carrier.
Roh left the ruling party soon after. Lawmaker Park Tae-joon left the party, too, which was followed by a series of defections to protest Kim's leadership. I pleaded with lawmakers to stay in the party and keep their support for Kim; I even rallied around the country.
On Dec.18, Kim was elected president with 9.97 million votes, trailed by Kim Dae-jung, with 8.04 million, and Chung Ju-yung with 3.88 million.
Kim had led in every poll nationwide except for in the Jeolla region and Seoul. But his presidency was to begin with another internal dispute awaiting the ruling party.
Compiled by Chun Young-gi, Kang Jin-kyu [kang.jinkyu@joongang.co.kr]