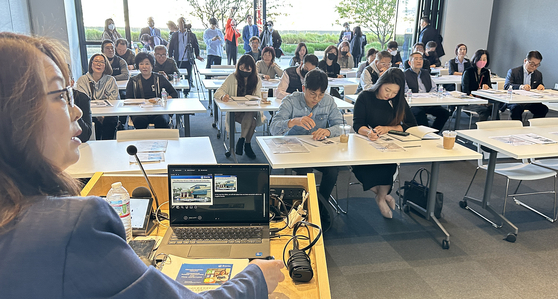 A Retail Food Inspection Seminar organized by the LA Korean Association (Chairman James Ahn) was held at a conference room at the LA County Department of Mental Health on the 8th.
Lee Kyung-ok, chief inspector at LA County Environmental Health, presented, "There are more cases of food poisoning as the weather gets hot."
According to the regulations of the Health Department, coffee shops like Starbucks are inspected once a year and fast food restaurants are inspected twice a year, but Japanese restaurants and Korean restaurants that provide full menus are inspected three times a year.
The inspection criteria are largely about the health and hygiene status of the employees, food storage temperature, cooking temperature, tableware and utensils and source of used ingredients. If illegalities are found, the business will receive a deduction in the report.
Director Lee said, "In the case of Korean food, most side dishes are potentially harmful foods, so they should be stored with care," and urged hot food to be kept at 135 degrees Celsius or higher and cold food to be kept below 41 degrees Celsius.
Director Lee also explained, "If food is stored at room temperature, it can't be for more than four hours. If it is stored at room temperature, it should be recorded."
In addition, she said, "If the hygiene condition is serious, let alone missing essential hygiene products such as water soap, we can suspend the business. Businesses should always keep the inspection list and provide related training to employees."
After the session on the hygiene, Albert Chang, chairman of the LA Korean Chamber of Commerce, came out to explain the Employee Retention Credit (ERC). ERC is a program in which the National Tax Service (IRS) provides tax deductions of up to $10,000 per employee for employers who have suffered economic difficulties due to the pandemic. Those in question are employers whose sales have decreased or temporarily suspended operations in 2020 and 2021 compared to 2019. Non-profit foundations also apply.
In addition, he also explained about EOG, which the county government is currently receiving applications.
According to the EOG program, the target of the funds to be distributed in the first stage are micro-businesses with annual sales of less than $50,000 based on tax reporting in 2019, and applications will be accepted on the website (grants.lacounty.gov) by the 23rd. Eligibilities include not having a record of previously receiving government-funded Pandemic Small Business Support Fund and need to have been operating at least from December 2019, with fewer than five employees. This does not apply to some businesses in industries such as finance, insurance, loan, and recount. The funds can be used to buy necessary items for the business or to pay off debts caused by the pandemic.
At the end of this month, second-phase applications for small businesses (less than $2 million in annual sales) and non-profit organizations (less than $5 million in annual sales) are going to be accepted. It will provide at least $15,000 to $20,000 for selected small businesses, and at least $20,000 to up to $25,000 for non-profit organizations.
Kim Sa-bin, director of the Korean Town Youth Center (KYCC), said, "It is a fund provided by the county government. If you are eligible for the application, it is better to apply quickly."
BY NICOLE CHANG [chang.nicole@koreadaily.com]