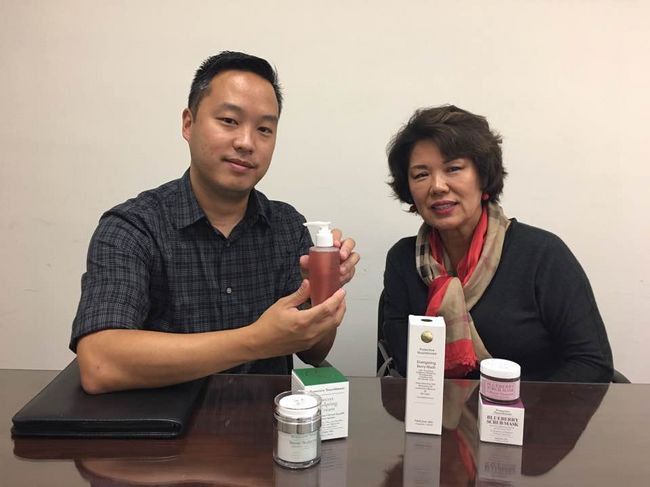 "Do not make cosmetic products that you can't eat!"
Protective Nourishment is a skincare cosmetic brand launched by a Korean.
In 1991, beauty supply store owner Young Lee founded Protective, which is now led by her son Leonard Lee. It was the first skincare product to be made by a Korean businessperson in the United States.
"There were a lot of haircare products back then in the U.S., but not many skincare products," said Young Lee. "So I began focusing on developing a skincare cosmetic product that's based on organic ingredients with no chemicals. I was able to form a business partnership with makeup artist Ilona Herman and enter the Hollywood market."
Film studios were Lee's first business target. As actors began using Protective before going on sets, it began garnering immense popularity. Paris Hilton, Robert De Niro and Moon Bloodgood became avid Protective users, which helped the brand expand further.
Protective is well known for its organic ingredients extracted from cranberries, blueberries, watermelons and pumpkins. It also contains jasmine oil without preservatives.
The business has grown further since it came under the leadership of Leonard Lee.
"I majored in business in college and then worked for four years at a real estate investment firm," said Leonard Lee. "My business experience and network definitely helped me to grow Protective as well. I'm going to try to make Protective a renowned international brand by building on my mother's marketing knowhow and strong product."
Protective, when sold on South Korea's prominent teleshopping network Lotte Homeshopping last year, was an immediate hit as it now has ran out of stock. In the U.S., the product can be found at big department stores, including Neiman Marcus, as well as other skincare product shops, such as Anthropologie and SAVA Spa in New York City.
By Sung Yeon Lee