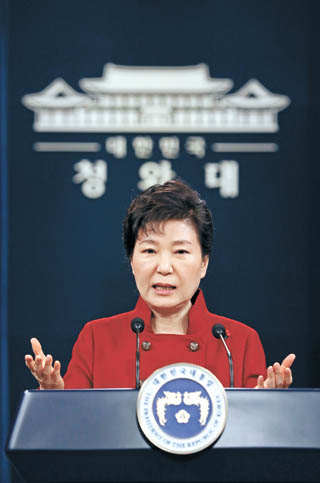 President Park Geun-hye Wednesday sent a strong message to China to use its influence to punish North Korea for its latest nuclear test, mentioning Seoul is considering the deployment of a U.S.-led missile shield in the South, which Beijing opposes.
Park addressed the nation in a live, 100-minute media conference Wednesday morning, issuing a statement on the North's fourth nuclear test and the deadlocked passage of economic and labor market reform bills in the National Assembly. She answered questions from the press following the address.
"Security and the economy are the two axes that support a country, and we are now facing an emergency in which both of them are in crisis," Park said in her address.
Park said the North's nuclear test last week will likely redefine the security landscape of Northeast Asia, and the international community must respond more strongly than it did after the first three tests. Park strongly urged China to live up to its word that it won't tolerate a nuclear-armed North Korea.
The North claimed that it successfully tested a hydrogen bomb on Jan. 6, although there has been no confirmation of that claim and plenty of skepticism that it was a hydrogen bomb.
After pleading with China to take a more aggressive role in reigning Pyongyang in, Park made an ambiguous comment on the possible deployment of a controversial U.S.-led antiballistic missile defense shield, a system China doesn't want used in the region.
"The U.S. Forces Korea's deployment of the Thaad will be [considered] based on our security and national interests and also by taking into account the North's nuclear and missile threats," Park said.
The deployment of a Terminal High Altitude Area Defense (Thaad) battery in the South has been a sensitive proposal because China and Russia oppose it, claiming its radar system can be used as a method of surveillance against them.
Park's comment on the Thaad deployment is by far her strongest remark on the issue. In an interview with the Washington Post last June, Park said, "We would look at this together with the United States, taking into consideration a variety of elements, including whether it serves our national security interest."
China quickly reacted to Park's remark.
"When one country considers its security, it must also think about other countries' security," Chinese Foreign Ministry spokesman Hong Lei said Wednesday.
Hong also said it is China's clear and consistent stance to disapprove of North Korea's nuclear test, adding that South Korea and China are maintaining communication on the issue of denuclearization of the Korean Peninsula.
"The president's remark was coordinated in advance within the government," a presidential aide told the JoongAng Ilbo. "This is a message to China to actively participate in punishing the North."
"We will make every diplomatic effort to bring about the strongest resolution that includes new sanctions stern enough to change the North's attitude," Park said, elaborating on Seoul's efforts to cooperate with Washington and other countries as well as the United Nations Security Council.
"In this process, China's role is crucial," Park said. "Until now, China has repeatedly declared that it won't allow a nuclear-armed North Korea. I believe China knows very well that fifth and sixth nuclear tests by the North in the future cannot be stopped and the true peace and stability of the Korean Peninsula cannot be guaranteed unless its strong will is translated into actual, necessary actions.
"Since the Chinese government has closely communicated with us over the North Korean nuclear issue until now, we believe it won't allow the tensions on the peninsula to escalate any further," Park said. "The best partner holds your hand in a difficult time. We believe China, as a permanent member of the UN Security Council, will play its necessary part in the future."
During the question-and-answer session with the press, Park said the UN Security Council is currently preparing a new resolution to punish the North, and Seoul is closely consulting with Washington and Beijing on the draft. Admitting that past sanctions have failed to stop the North from pursuing nuclear development, Park said the upcoming resolution will be menacing enough to change the North's behavior.
"China plays once again a crucial role," Park said. "I had several summits with [the leader of] China and the nuclear issue of the Korean Peninsula was always discussed [prominently]. Every single time, China strongly declared that it will never tolerate a nuclear-armed North Korea.
"I have the expectation that China will play a more aggressive role to live up to its strong will and public stance," Park said. "Foreign ministers of the two countries had a telephone consultation, and chief negotiators [of the six-party talks] of Seoul and Beijing will also meet tomorrow. We are working hard to produce the most effective countermeasure."
Since she took office, Park has worked hard to deepen Seoul's relations with Beijing. When she was a president-elect, Park sent an envoy to China before sending one to the United States. She broke a longstanding presidential tradition by visiting China before Japan after taking office in 2013, although the United States was her first overseas destination.
While the decades-long "blood alliance" between China and North Korea has weakened under the Pyongyang's young ruler Kim Jong-un, relations between Seoul and Beijing improved significantly, particularly under the Park administration. South Korea and China established diplomatic relations in 1992. When Park viewed China's largest-ever military parade in Beijing in September 2015 from a prominent spot near President Xi Jinping, some observers said the South had replaced the North as China's favorite Korea.
The Park administration's closeness with China hasn't translated into increased pressure on North Korea, even on the issue of its nuclear weapons program, which Beijing formally is against. While Park talked to U.S. President Barack Obama and Japanese Prime Minister Shinzo Abe in separate phone calls on Jan. 7, 2016, one day after the North's nuclear test, no dialogue between Park and Chinese President Xi had taken place as of Wednesday. Seoul and Beijing established a direct hotline between defense ministers at the end of last year but no communication has taken place on it, even after the nuclear test.
Foreign Minister Yun Byung-se talked to his Chinese counterpart Wang Yi only on Friday. While Yun urged Beijing to call for stronger punishment against Pyongyang, China merely reiterated its official position that the problem must be resolved through dialogue.
Asked about growing demands in political circles, including the ruling Saenuri Party, that South Korea have tactical nuclear arms to defend itself from the North, Park made clear that the country will remain nuclear weapons-free. Park said the South has made a commitment to the international community to remain nuclear-free and should keep the promise. Park also stressed that the U.S. nuclear umbrella still covers South Korea, that there is no need for tactical nuclear weapons in the South.
BY SER MYO-JA [ser.myoja@joongang.co.kr]