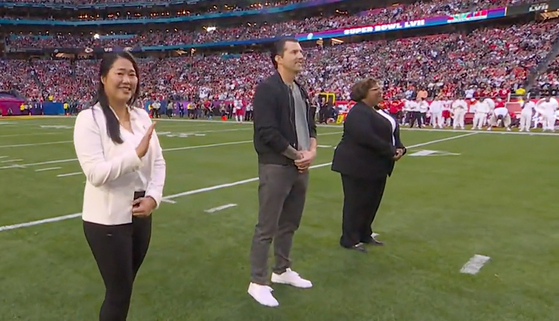 A Korean woman from Fullerton overcame her struggle as an illegal immigrant to become the honorary captain of the NFL Super Bowl.
Park Hye-jung was picked as one of the community heroes to participate in the coin toss that determines who attacks just before the Super Bowl match between the Philadelphia Eagles and the Kansas City Chiefs at State Farm Stadium in Glendale, Arizona, on the 12th.
Four honorary captains, including Park, were introduced to the stadium's packed spectators and viewers nationwide. They were selected among scholars who were awarded research funds by the Pat Tillman Foundation. The foundation was established to honor Pat Tillman, an NFL star who voluntarily enlisted in the U.S. military after the September 11th terrorist attack and died in the war.
Park came to the United States in 2000 when she was eight years old. Park was able to stay in the U.S. despite her illegal visa status thanks to Barack Obama administration's DACA policy.
Park was admitted to Fullerton College in 2011 and showed leadership while serving as the chairman of the Alpha Gamma Sigma club.
Park joined the U.S. Army Reserve after receiving a bachelor's degree in social ecology from UC Irvine, where she got her citizenship.
Park, who later received a master's degree in developmental psychology from Arizona State University, flew to the Middle East at the request of the military, while taking a doctorate course and worked as a supply supervisor for nine months. Park, who returned to school to prepare for her thesis, earned her doctorate in December last year.
Park is interested in research on psychological and social variables that affect the mental readiness of soldiers and their families.
Park is also interested in public policy. She said she wants to contribute to the legislation to help others since she also hugely benefited from the DACA policy herself.
Park said, "I wouldn't have achieved anything if many professors, counselors, and mentors didn't help me when I was in school. I want to serve as a bridge between developmental science and public policy and participate in a movement that opens the door to opportunities."
BY IM SANG-HWAN