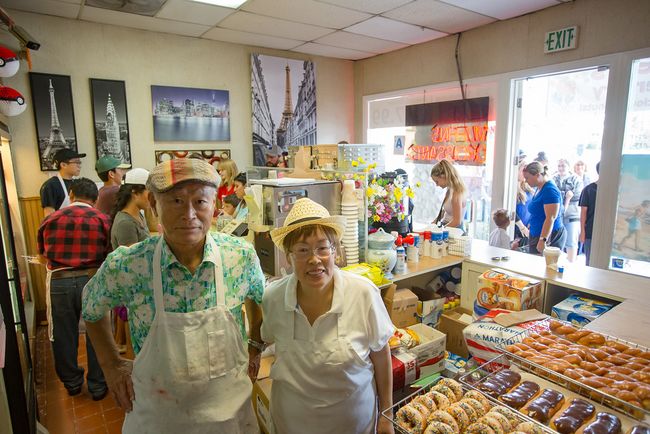 During an age in which corporate-owned coffee and snack shops, armed with wealth and marketing power, are rapidly replacing local businesses, San Diego's Carmel Mountain residents are standing behind their fellow neighbors who have served the community for the last 27 years.
In most neighborhoods across the country, an event such as the opening of Krispy Kreme, an immensely popular global doughnut and coffee house chain, would receive a warm welcome.
That wasn't the case for Carmel Mountain residents. When they became aware that Krispy Kreme was set to open its business in Carmel Mountain Plaza this past Tuesday, their thoughts were with Jin-Woong Kim and Jennifer Kim, an elderly couple, who has been operating Sesame Donuts less than 100 feet away from the newly launching corporate-driven shop.
Instead of holding an angry protest, which could potentially create a hostile scene, the Carmel Mountain residents strategized a plan to channel their discontent into a positive energy to help the Kim family's Sesame Donut remain viable against the mammoth competition.
"I feel genuinely welcomed by the Kims every time I visit their shop," said Fred Carlo, who has been frequenting Sesame Donut for 10 years. "They always remember our names and even greet us with hugs. We want businesses like theirs that strive to serve the community to succeed. For the property owners to allow Krispy Kreme to open so close by is an act that violates business ethics."
Coincidentally, Tuesday marked the 27-year anniversary of Sesame Donut's opening on the same day in which the nearby Krispy Kreme began its business inside the same mall. So the residents began organizing a volunteer-based 27-year anniversary celebration to divert attention of the visitors at the mall from Krispy Kreme, which was hosting a grand opening of its own.
From weeks before the event, the Carmel Mountain residents launched a social media campaign to tell their friends around the neighborhood to rally behind Sesame Donut. Ads were placed in student newspapers of public schools nearby, prompting local media to also promote the event.
"Hard work of small business owners must be rewarded," said Erika Thornes, who volunteered to photograph Sesame Donuts' anniversary event. "That's why we've decided that the 27-year anniversary of Sesame Donut will be celebrated more intensively, especially since the day coincided with the opening of Krispy Kreme inside the same mall."
As Sesame Donut spruced itself up with decors and a play place for children with the help of the people in its community on the day of the event, the Kims' sales for the day soared exponentially compared to their recent average. As the collective effort raised visibility of their business around the entire neighborhood, the couple has seen a significant increase in the number of customers in recent weeks.
"It felt like I was struck by a lightening in middle of a sunny day when I first heard that Krispy Kreme was opening so close from us," said 73-year-old Jin-woong Kim. "But our customers and neighbors created a voice for us, saying that local businesses must be supported for the betterment of the entire community. This is a beautiful effort by our people to stand for justice. We are still going through a difficult period, but their support has given us a lot of strength."
By Jung Won Seo