The Korean government has decided to expand the use of natural gas to lower the nation's dependence on crude imports and realize the carbon emissions reduction target it voluntarily made in Paris.
The Ministry of Trade, Industry and Energy announced on Monday that it was pushing its long-term plan through 2029 of boosting domestic consumption of natural gas and liquefied natural gas (LNG).
"As the entire world is fighting against climate change, the role of natural gas is becoming more important," said Chae Hee-bong, director general for energy industry policy at the Energy Ministry. "LNG is still not a popular energy source due to price issues and the big price fluctuations associated with crude. The government hopes to make regulations flexible to offer wider access to this clean energy source."
The goal is to increase the consumption of natural gas, commonly referred to as city gas, by 2.06 percent annually until 2029. By then, consumption would amount to 25.17 million tons a year.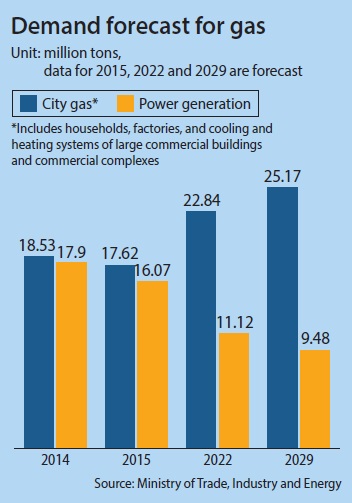 City gas is currently supplied to 200 cities and towns, and mostly used for cooking and heating in homes, factory operation, and cooling and heating in large office buildings and commercial shops.
But since city gas is not available in many rural towns, the government will spend 7.1 trillion won ($6.1 billion) building gas pipelines to offer access to city gas to 16 more towns by 2019.
The government also aims to use LNG as fuel for hydrogen fuel cell vehicles. The government earlier announced its plans to boost sales of hydrogen-powered cars to account for 10 percent of all newly sold cars by 2030.
LNG is one of the most economically viable and stable sources of hydrogen production along with petroleum refining, experts said. The government plan aims to commercialize the LNG modification technologies within a few years and develop a hybrid hydrogen charging station that uses both natural gas and petroleum.
The use of LNG was forecast to shrink in coming years, particularly since two newly constructed nuclear power plants are slated to be completed around 2029. This will lead to an annual reduction of 4.17 percent through 2029, bringing annual consumption of LNG to 9.48 million tons. However, that projection came before the government announced its carbon emissions reduction goal in Paris earlier this month.
"It is true that Korea's overall energy demand will slow down over time due to a slowdown in GDP growth and changes in the industrial structure," said Lee Ho-moo, head researcher at the gas policy division of the Korea Energy Economics Institute (KEEI). "But if the government confirms the greenhouse gas reduction plan, the role of natural gas will be more important."
Although the government has not yet revealed details, it said it will gradually lower the prices of LNG, which currently cost nearly 145 won per kilowatt-hour. This is seven times the price of coal, which only costs 37 won.
In order to lower the price of gas, the government plans to diversify gas suppliers.
Korea is the world's second-largest importer of natural gas following Japan. China is the third largest. Korea currently receives gas supplies from eight countries including Yemen, Oman, Qatar and Indonesia. But starting in 2017, Korea will bring in U.S. shale gas and plans to work with other gas producers like Iran.
The government plans to ease regulations on natural gas imports. The government will allow reselling or swapping oversupplied gas with other countries. Under the current law, all gas that is shipped to Korea has to be used on the Korean Peninsula.
The government will encourage gas import contracts to be renewed every five years. Today, gas imports are under a long-term contract of a maximum of 20 years. That leads to imports of fixed volumes even when there is low demand. The government believes that encouraging mid-term and spot contracts will not only help stabilize prices but also provide more flexible imports.
The Korean government will also initiate future contracts with hybrid pricing models, in which a certain portion of gas is priced according to crude prices and the rest is priced with the Henry Hub system, a U.S. natural gas pricing system.
"International LNG contracts are designed to be more beneficial for seller countries, mostly involving long-term and crude-associated pricing systems," said Lee from KEEI. "Korea will be able to stabilize gas prices and detach them from crude price fluctuations."
To foster stronger negotiation power, Korea will push the start of a trilateral cooperation body with Japan and China. It aims to sign a memorandum of understanding among the three countries within the first half of next year to cooperate in enhancing LNG retail networks within Northeast Asia and bring down gas prices.
Korea will also discuss a gas pipeline between China and Russia to be extended to Korea.
BY KIM JI-YOON [kim.jiyoon@joongang.co.kr]