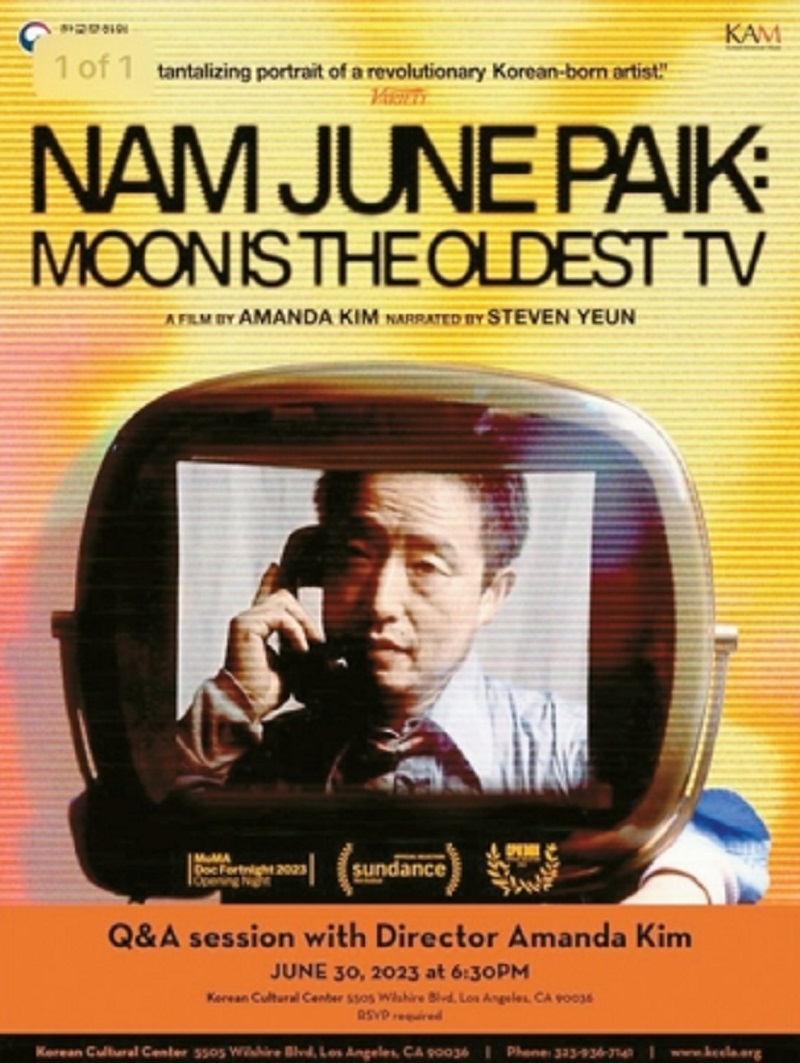 A special screening of "The Moon is the Oldest TV," a documentary film about the late Korean American video artist Nam June Paik (1932-2006), is set to take place.
The Korean Cultural Center Los Angeles (KCCLA) has announced that it will host the screening in collaboration with Korean American Muse (KAM) at 6:30 p.m. on June 30 at the KCCLA's Ari Hall. The screening will be followed by a Q&A session with director Amanda Kim.
Narrated and executive produced by Korean American Hollywood actor Steven Yeun, "The Moon is the Oldest TV" garnered attention when it was chosen for the Documentary Competition at the 2023 Sundance Film Festival.
"The Moon is the Oldest TV" is the first documentary film to delve into the artistic life of Nam June Paik, a master of video art and one of the most influential artists of the 20th century. It highlights his iconic work, "The Moon is the Oldest TV," which features changing images of the moon displayed on 12 TV monitors. This groundbreaking piece was first introduced by Paik in 1965 at the Galeria Bonino in New York City.
The film captures the visionary perspective of the media art master Nam June Paik and includes interviews with significant figures such as his teacher John Cage, who greatly influenced his avant-garde artistic world; German master Joseph Beuys, with whom he had a lifelong artistic collaboration; Charlotte Moorman, a close cellist with whom he frequently performed; Yoko Ono, an artist with whom he shared a close relationship; avant-garde poet Allen Ginsberg; and pop artist Andy Warhol.
To attend the screening, reservations must be made through the center's website at www.kccla.org. The event will take place at 5505 Wilshire Blvd, LA, and for further inquiries, the center can be contacted at (323) 936-3018.
BY EUNYOUNG LEE   [support@koreadaily.com]