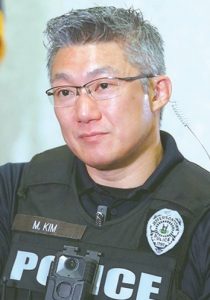 There is a police officer in a small town in Kentucky who happens to be the only Korean-American officer in town.
On May 30, Louisville's WHAS11 covered the story of Mike Kim (pictured), a 10-year veteran of the department and the only Korean-American officer in Jeffersontown, a small city of about 28,000 people.
"We like to patrol all the main roads – Taylorsville Road, Hurstbourne, Blankenbaker, and then Watterson Trail," Kim said. "It's always good to know the backroads."
"I guess that's one of the reasons why I came here, for that small-town feel. Everybody knows everybody," Kim said.
He's used to a tight-knit community.
Kim was born in South Korea and immigrated to the United States when he was four years old, growing up in Madisonville, Kentucky.
Like Jeffersontown, Madisonville is a small town of less than 20,000 people. Asians make up less than 2% of the population.
"I could probably count all the Asian Americans in that town on one hand," he said. "You had to almost be like a chameleon and be able to adjust and adapt."
But instead of just fitting into his surroundings, he carved out his own path.
"As most first-generation, second-generation Asians, it's usually one of those: doctor, lawyer, engineer," he said.
He majored in biology at the University of Louisville, but soon realized it wasn't for him.
"I kind of fumbled through life, tried different sales or business jobs," he said. "Then my wife inspired me and said, 'This is what you like, you always talk about it, give it a try.'"
He took his wife's advice, made a career change, and it proved to be the right one.
Kim currently serves with the Jeffersontown Police Department after 12 years with the Louisville Metro Police Department's Homicide Division. He is also a father of three.
He broke the mold as a Korean-American in law enforcement and is the only one within this department, where Asians make up only 1.8% of the population.
"It feels good to be a positive representation," Kim said. "I'm appreciative of my upbringing, my discipline, and the morals that my parents taught me; it served me well."
But he said he's not solely focused on breaking Asian stereotypes; he also strives to be a good officer.
"It's about being a good person, doing the job well, and treating others with respect," Kim said, adding that "it's about who you are, not what you are."
BY SUAH JANG   [support@koreadaily.com]