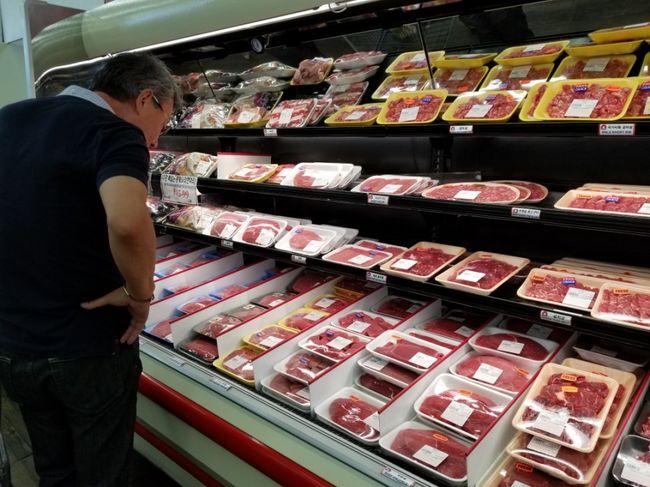 "It's almost as if these meats are made of gold… It's tough to just enjoy eating meat now."
Meat prices are skyrocketing. Beef and pork prices have increased by at least 30 to 40 percent in recent months. Beef ribs have even increased to 50 to 60 percent, while pork belly has also jumped in price by 40 to 50 percent. Even chicken prices have increased by 20 percent.
Industry experts say that the main reason behind the price hike is the failure for the supply to meet the public's demand.
"You can't just start growing more cows and chickens just because the demand is going up," said Sam Chang Foods president Nam-su kim. "More meat is being imported and even the frozen meat is no longer as common. That has shot up the prices significantly."
Kim added: "As China began importing premium American meat, it's become even harder to find higher quality meat now. Japan is importing more American pork along with the higher supply of bacon. I don't expect the prices to come down anytime soon."
Many Korean restaurants are also alarmed about the soaring meat prices.
◇Korean markets
Pork belly now costs an average of $3 to $5, a significant increase from the $2 range from earlier this year. Even the price of short beef ribs has jumped by $0.50 in just a week. For marinated short ribs, the price at the moment is $8.49 to $8.99 per pound, the highest it has been this year.
"Pork belly prices have not gone down at all since the beginning of this year," said Hannam Chain sales chief Tae-jun Kim. "Wholesale prices have gone up tremendously. Even for the market, it's hard to leave a margin."
Koreatown Galleria market manager Jin-ha Kim also said, "fewer customers are now shopping for meat due to the rising cost."
◇Korean Restaurants
The rising minimum wage and meat prices are affecting the profitability of many Korean restaurants.
Many of Koreatown's barbecue restaurants are no longer able to afford the rising costs and have increased the prices of their menu.
"Beef, chicken, and pork have all become more expensive now," said MAPO Korean BBQ president Dae-poong Kim. "We're charging an extra $1 on customers ordering our all you can eat menu now. We'd actually have to increase the price higher to improve our business, but we're also reluctant about rubbing our customers the wrong way."
Some restaurants have increased the prices of their other items, including fish and lunch entrees.
"We charge a $1 more on our soup entrees, which includes our lunch specials," a restaurant owner said.
By Sungcheol Jin