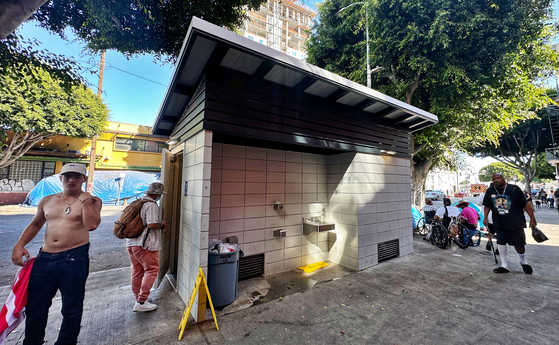 As people begin to venture out again following the end of the pandemic, the lack of public restrooms has emerged as a major issue in Los Angeles.
During the early stages of the pandemic, the city installed 150 temporary hand-washing stations and temporary toilets in areas with high concentrations of homeless tents. However, due to budget constraints since the beginning of this year, the city has been removing or neglecting the maintenance of these facilities. This budget cut has resulted in various side effects.
Moreover, there are currently only 14 operational public restrooms in the city. Downtown LA streets and parks, like Echo Park, have been plagued by the stench and trash caused by homeless individuals urinating in public.
Consequently, there is a growing demand for the city to urgently address this issue by installing additional public restrooms ahead of the 2028 Olympics.
According to a recent report from online media outlet L.A. Taco, the number of temporary sinks and restrooms installed during the pandemic has been reduced to 71, and this number is expected to further decrease due to insufficient funding.
The city of Los Angeles spends an average of $36 per day to install and rent these temporary facilities, amounting to approximately $100,000 per month. However, the costs escalate significantly when facilities require repairs or when rented over the weekends.
In April alone, the city received a bill of $1.3 million for 12 operations, but with less than $600,000 remaining in its budget, it was unable to cover the previous month's costs, leaving a substantial deficit.
In contrast, permanent public restrooms cost less than $300,000 per year to operate, making them a more affordable solution. However, the installation process is more complex, which explains why there are currently only 14 public restrooms in the city.
In a city with a population exceeding 4 million, this equates to one public restroom for every 290,000 people. The lack of restrooms has led to the contamination of streets with urine and human waste in the world's third-largest city by gross domestic product (GDP).
For instance, the area in front of the Pershing Square station at the intersection of 5th and Hill streets in downtown Los Angeles emits a strong foul odor. While there is a public restroom nearby, the limited number of available stalls makes it challenging for individuals to relieve themselves without having to resort to nearby stores if the line is too long. This restroom sees an average of 148 users per day, making it one of the busiest public restrooms in LA.
"We can't expect people to tolerate this situation," stated a resident who volunteers to clean the restrooms when possible in a recent interview with the LA Public Press. "We need some sort of assessment to determine the population and the required number of restrooms to address this lack of facilities."
Meanwhile, the city of Los Angeles has been operating 15 mobile toilets through the Pit Stop program since last year. However, it is still insufficient to resolve the problem.
Hong Ji-eun, a 50-year-old resident of Koreatown in LA, expressed her concerns: "Koreatown is also heavily affected by street pollution. The LA City Council has allocated a $50 million budget to address the issue of homelessness, and if even 1% of that amount is utilized for installing and managing public restrooms, our streets would be much cleaner."
BY NICOLE CHANG    [chang.nicole@koreadaily.com]