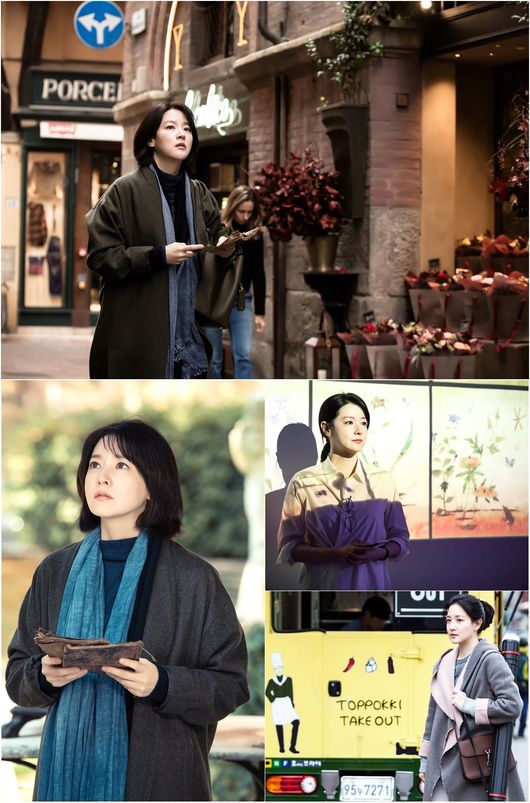 Lee Young-ae's actor transformation has finally been unveiled. On Tuesday, January 10, SBS's upcoming drama series, Saimdang, Light's Diary, released stills of Lee Young-ae acting Seo Ji-yoon in the drama.
Saimdang, Light's Diary is a fusion history period drama that mashes up the story about fictional character Seo Ji-yoon and narrative about historical figure, Shin Saimdang. The drama narrates the story of Saimdang as a genius painter, as well as her transcendent romance with "Gatsby of Joseon," Lee Kyeom.
In the drama, Lee Young-ae plays a dual role – Saimdang in Joseon Dynasty and part-time lecturer Seo Ji-yoon. While previously released posters and teasers have proved the actress' perfect transformation into Saimdang, recently released stills unveil her ability to carry out two different characters at the same time.
Seo Ji-yoon is a diligent "super mom" who works hard with a goal to become a full-time professor. Released photos feature Lee Young-ae on a street in Italy, where Seo Ji-yoon accidentally finds an old diary of Saimdang.
Saimdang, Light's Diary is expected to continue the golden era of SBS Wed/Thurs drama, airing right after The Legend of the Blue Sea. The drama airs its premiere on Thursday January 26 at 10 pm KST.
Original article by Park Jin-young
Translated by Heewon Kim