Being one of the most populated cities in the United States, the City of Los Angeles is visited by millions of tourists every year. From Hollywood Walk of Fame to Venice Beach, numerous tourist attractions are allocated throughout Los Angeles. Downtown Los Angeles is no exception.
In DTLA, past and present coexist in 16 individual districts, including Art District, Bunker Hill, Chinatown, and Fashion District. Below are some of the must-visit tourist attractions in DTLA you may have missed.
1.Bradbury Building
The oldest commercial building remaining in the central city, Bradbury Building was completed in 1893. From ornate iron railings to marble stairs to open cage elevators, Bradbury Building's splendid Victorian design makes it one of downtown's most photogenic spots.
The building is open to the public for free Monday through Friday from 9 am to 6 pm and Saturday through Sunday from 9 am to 5 pm.
Address: 304 S. Broadway
2. Angels Flight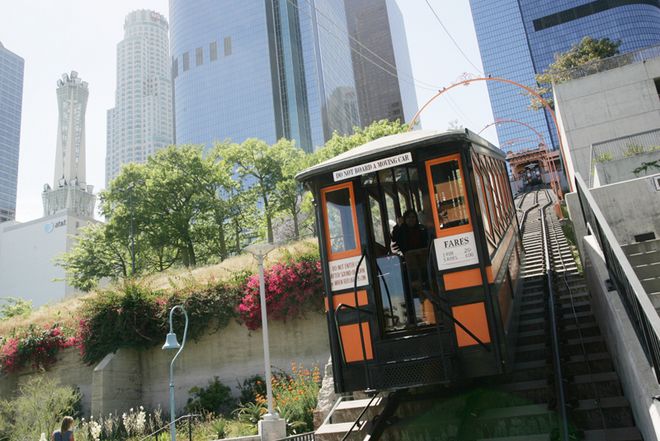 The shortest railway in the world, Angels Flight originally operated between Hill Street and Olive Street from 1901 until it was closed in 1969. The second Angels flight, which connected Hill Street to California Plaza, opened in 1996, re-closed in 2001 after a fatal accident, and re-opened for the third time in 2010 until it closed again in 2013 after a minor accident. Even without its operation, however, Angels Flight offers a great background for snaps.
Address: 351 S Hill St.
3. Los Angeles City Hall
Los Angeles City Hall was completed in 1928 with its iconic, unique hybrid of modern design incorporating a stepped pyramid on the top. Sand used in the building was brought from 58 counties across California, while water was brought from 21 historic missions located in San Diego through San Francisco.
Parts of the building, including the observation deck, are open to the public for free Monday through Friday from 10 am to 5 pm and Saturday through Sunday from 9 am to 5 pm.
Address: 200 N. Spring St.
4. Grand Central Market
Grand Central Market, a downtown landmark since 1917, is always populated with locals and visitors alike. Not only can you find fresh organic fruits and vegetables, but you can also find some of the best gourmet destinations in the city – Eggslut, Knead&Co., G&B Coffee, and more.
Open seven days a week, from 8 am to 10 pm.
Address: 317 S. Broadway
5. Central Library
Attracting couple millions of visitors each year, the Central Library, competed 1926, stands in the midst of skyscrapers. While the exterior of the library presents an early example of Art Deco, the inside is filled with 2.5 million pieces of artworks and books.
Address: 630 W. 5th St.
Original article written by Jong-chun Baek
Translated by Heewon Kim