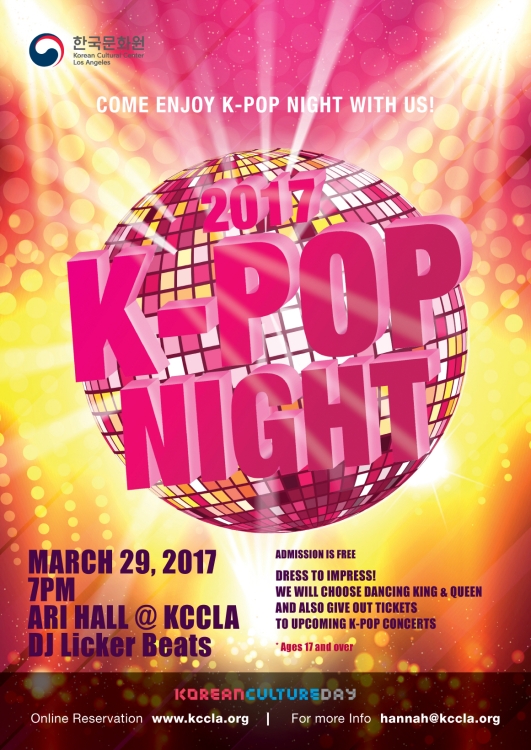 The Korean Cultural Center of Los Angeles holds the 2017 K-pop Night tonight, inviting all K-pop fans in the area to come and enjoy the music and dancing.
2017 K-pop Night, which is to be held on March 29 at 7 PM at Korean Cultural Center on Wilshire Blvd, is an event designed to offer an opportunity for K-pop fans in Los Angeles to gather and enjoy and learn the latest K-pop culture.
Unlike previous contest-like events, this year's K-pop cultural event will be more enjoyable for more people as it invites DJ and professional instructor to offer K-pop dance workshop and K-pop dance battle.
At the workshop, participants will be able to learn the choreography for BTS's "Not Today." The event will be wrapped up with a flash mob.
Also, K-pop dance battle yields the stage to anyone who wants to show his or her talent in K-pop dancing. If you want to participate, prepare a dance to one of the following songs: Red Velvet's "Rookie," Twice's "Cheer Up," BlackPink's "Boombayah," and BTS's "Fire."
"We organized the K-pop Night as a special event for this year's Korean Culture Day," said Nakjung Kim, director at the Korean Cultural Center of Los Angeles. "We hope LA's K-pop fans to come and enjoy the event together."
The 2017 K-pop Night is open to anyone over 17 years old. For more information and online reservation, visit their event page.
Original article by Oh Soo-yeon
Translated by Heewon Kim