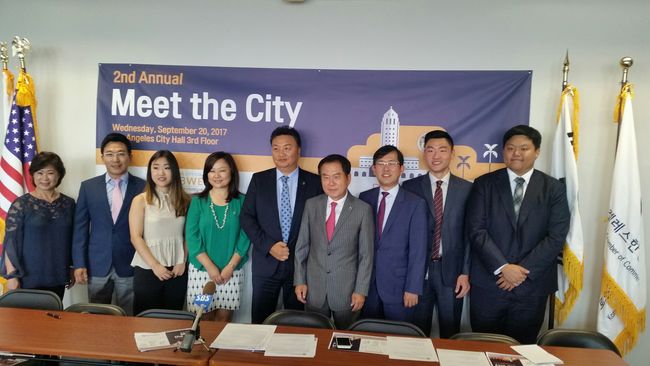 "It's a truly good opportunity. Meet the City event first started last year and feedback has been good. The city of L.A. also wants to be good partners with the Korean-American community, so we've decided to arrange the second event. The public servants at the city aren't people you can meet with easily. It's an opportunity to speak with them about developing and other business-related issues, so we encourage many Korean-Americans to participate."
L.A. Korean Chamber of Commerce (L.A. KCC) is hosting its second Meet the City event at L.A. City Hall (200 N. Spring St.) on Sept. 20. The purpose of the event is to develop a better understanding between the city government and the Korean-American community as admission is free. The first event last year saw about 200 Korean-American attending as there were more than 300 people at the event.
At the press conference to announce the event on Sept. 4, L.A. KCC board members were present alongside Robert Park, the central area representative at the office of L.A. Mayor Eric Garcetti, L.A. City Council member Herb Wesson's deputy staff member Jamie Hwang and Daniel Park, a staff member for Council member David Ryu.
L.A. KCC confirmed that the event on Sept. 20 will be attended by government officials from the city's 25 departments, including city planning, housing and community investment, contract administration and engineering.
"The Korean-American community plays a big role in the economy of Southern California, but we've rarely had opportunities to speak with the city," said L.A. KCC president Ki-hwan Ha. "Even the problems that can be fixed by making a request to the city will not change if we just sit still. We have to use opportunities like these to get our opinions across as a community."
Ha said: "The conversations we could have include changing Olympic Boulevard to a commercial zone and repairing the damaged street."
L.A. KCC vice president Cindy Baek said: "We could also make an inquiry about changing garages into residential units."
Hyung-seung Lee of L.A. KCC added: "It could be difficult to discuss the specific details as there will be many attendees, but getting to know the city officials can be a good way to obtain information in the future. Those interested in attending should make a reservation with L.A. KCC by Sept. 13."
L.A. KCC will provide food and beverages at the event. Free parking will be available at the city hall's eastern parking structure (201 N. LA St.) for attendees with the printout of the invitation.
Reservation must be sent in English. It should include name, employer, job title and phone number. The event will be held at 3 p.m. on the third floor.
▶Inquiries: (213)480-1115, info@lakacc.com