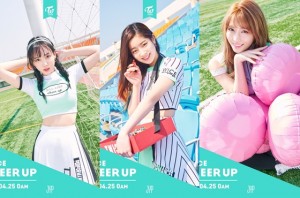 TWICE's second mini-album Page Two is to be released on April 25th!
TWICE is JYP Entertainment's youngest girl group that debuted last year through a competitive survival program called Sixteen. They swept almost all of the rookie awards of 2015 with the song "OOH-AHH."
JYP has launched a week of promotion called TWICE WEEK leading up to it. So far, JYP has unveiled four teaser videos and six individual teaser images.
As the name suggests, the title song "Cheer UP" is a dance pop incorporating multiple genres of hip hop, tropical house, drum & base.
The track list goes as follows:
Cheer Up
소중한 사랑

터치다운

(Touchdown)

툭하면 톡

우후

(Woohoo)

헤드폰 써

(Headphone

써

)

I'm gonna be a star
TWICE has recently flaunted their charisma and charm through Mnet's reality show "TWICE's Private Life."
With their popularity soaring, fans are eager to see what the nine-member girl group will bring to the Kpop scene this time. Stay tuned for their official release next Monday, April 25th!
By Hajin Lily Yi